By Chris Welch
CNN





MINNEAPOLIS, Minnesota (CNN) -- It's traditionally seen as a time for celebration, but these days Hamline University senior Emily Amici looks at graduation day with nothing but uncertainty.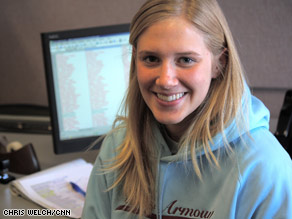 Hamline University senior Emily Amici says looking for a job has "been kind of rough."
"If I don't have a job, I'll be panicking," the St. Paul, Minnesota, student says.
Amici wants to dive head-first into the business world, but with the economy hurting, that can be a bit daunting. Amici is majoring in international management with a minor in Spanish, and until mid-school year she thought she'd be just fine.
"I had already started interviewing with companies back in like October, and I was like 'Wow, they're already looking to hire people and it's only October, so that's a good sign.' But then right around December things just started going downhill, and it's been kind of rough."
The numbers bear her out, with the unemployment rate among college graduates at a record high. In February, almost 1.9 million college graduates were unemployed, according to the Bureau of Labor Statistics.
Amici had her sights set on an entry-level position with a Minnesota-based international food company that she says has traditionally hired between 10 and 20 recent grads each year. She'd gone through three separate rounds of interviews with the food company and things were looking positive -- for a little while.
"They were really interested in hiring me, but due to staffing changes or economic conditions, they couldn't extend offers at this time," she explains.

Watch Amici talk about job prospects »
Amici says she understands it isn't the company's fault. In fact, she knows first-hand that it's not the only employer in that position.
She's sent out about 100 resumes. Four of those have produced interviews, two of which, however, ended similarly.
"They just couldn't hire," she says, admitting it's been frustrating -- especially for someone with a 3.9 grade point average.
"I guess when I look at it, I'm a pretty good student," Amici says shyly. "I just feel like if I can't get a job -- and I've put in a lot of work at college and I'm a pretty good student and I have a lot of extracurricular [activities] -- it's just going to be impossible for a lot of people to get jobs."
She says she's even been to job fairs recently where the majority of companies have openly said they aren't even hiring, just merely taking applications for future consideration. But Amici still keeps a positive outlook.
"They have to hire eventually, though," she says. "I mean, I don't know if that'll be in April or August or two years from now."
Mike Brinda is a junior studying applied economics at the University of Minnesota. He's decided to let the job world wait for him. He's continuing his education by going to graduate school in finance -- an idea some might shudder at given today's economic climate.
"I know finance is pretty bad right now," Brinda admits. "But hopefully it's in the upswing, and probably with more education it might be easier to get a job."
Claudia Parliament, a University of Minnesota professor in the Department of Applied Economics and the executive director of the Minnesota Council of Economic Education, says she was a bit surprised when Brinda told her of his plans.
"When he first told me he wanted to go into business, I said, 'Whoa, that's interesting,' " Parliament says. "I would think that people would be leery of a major in that field."
Still, Parliament says she supports Brinda's decision because she knows he has a passion for personal finance, and, in her opinion, it's never a bad option to further your education.
"I think it's a good time to be in school right now because you're investing in your own skills," Parliament says. "And right now when there's not as many job prospects it's a good time for you to make those kinds of investments. So I would say it's a good time to be in school no matter what."
But, Parliament adds, it's also never a bad idea to get hired -- or to keep a current job -- if a student or graduate is able.

Watch Parliament discuss the economy and education »
Coincidentally or not, both Hamline University and the University of Minnesota are seeing slight growth among students studying business. Despite the dismal economic outlook, there still seems to be a genuine interest and curiosity about the recession and in business-related fields in general, faculty members say.
Wayne Sigler, the director of admissions for the University of Minnesota, says business has always been a strong area for the school. He says it's only "continuing to grow."
Julian Schuster, dean of Hamline University's School of Business, echoes Sigler's words and adds that, in a sense, learning economics is "fashionable."
He says Hamline business classes have been filling quickly because there's an interest in what's current, such as economics and finance.
"The process of understanding empowers them to comprehend that actually a big portion of what is going to happen they can address by their own actions," Schuster says. "And that mood is something which I see at the end of our classes."
Emily Amici may have a better understanding of business, but if she can't find a job in her field of study, she'll have to settle with her current position as a waitress until she does. She says she's not planning to go to grad school at the moment.
"Right now, I'm just taking it as it comes," she says.

And perhaps the best thing for business students to do is follow the lead of Hamline junior Erik Gusaas, who's in the process of finding internships that may lead to jobs.
"I just try to keep a positive attitude toward it. [I] just keep knocking at the door and figure something has to eventually fall my way. I have to try to keep a stiff upper lip."
E-mail to a friend

All About Colleges and Universities • Unemployment Rate