(CNN) -- Edward Liddy, chief executive officer of American International Group, is known for straight talking, consistent profit-making and innovative thinking.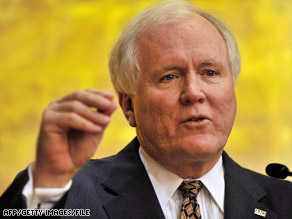 "Anything that's easy, somebody has already done it," says AIG chief Edward Liddy.
"Anything that's easy, somebody has already done it," he is known to say.
Liddy, 63, "answered a government call" and was elected the company's chief executive on September 18, a company spokesman said.
The directors' decision came two days after the Federal Reserve Board lent the company $85 billion to save it from bankruptcy and keep afloat numerous Wall Street firms that depend on AIG money to survive.
That bailout for AIG soon ballooned to $170 billion under an executive renowned for putting companies -- notably Allstate Insurance -- deep in the black and keeping them there. Watch how public support for bailouts is slipping

"Liddy has turned a profit wherever he's been, no matter what," reporter Jeff Flock said for a 2006 broadcast of the PBS program "CEO Exchange." "Even the worst of storms, both financial and literal. Hurricanes Rita and Katrina cost Allstate $3 billion in claims [in 2005], yet it still earned over a billion and a half."
To the positions of AIG's CEO, director and chairman of the board, Liddy brought decades of experience in the areas of insurance and corporate governance.
Liddy oversaw a Sears Roebuck restructuring and then became head of Allstate Insurance, a Sears spinoff. He served as chairman of the board of The Allstate Corp., the parent of Allstate Insurance Co., from January 1999 until his retirement in April 2008.
Don't Miss
Liddy oversaw Allstate during turbulent times in the post-Katrina era, when most major home and commercial insurers increased premiums, ratcheted up deductibles and narrowed terms of coverage to absorb the shock of hurricane-related payouts.
"Making a decision that's good for the next two to three years and making a decision that's good for the next 20 to 30 years sometimes are at odds with each other, and being able to balance those two can sometimes be difficult," Liddy said on the PBS program.
During that post-Katrina period, he became familiar with the concept of federal bailouts when he made the argument for federal funds to help insurance companies shoulder the costs of catastrophic events.
Nevertheless, Liddy knows the value of a dollar.
"I'm a product of a single mom, who raised my sister and me and never had two nickels to rub together," he said on the PBS program. "She would not miss a credit card bill for anything because it was part of her character.
"And on the other hand, sometimes when people have a lot of money, they become very loose with what they engage in."
That's what Liddy's current company, AIG, stands accused of as it plans to dole out $165 million in bonuses to some of its top executives.

Watch Rep. Barney Frank go ballistic over bonuses »
Liddy is likely to get an earful from Congress on Wednesday. But if past statements are any indication, he may not mind.
"I think perhaps one of the most underrated skills that a CEO can possess is the ability to listen," he said on PBS. "You know, if you listen a lot more than you speak, organizations know what to do. Good people in good organizations, they know where to take it."

Not long after AIG received the first portion of its federal bailout, Liddy had to answer calls for his resignation after the company held a financial planners conference at a posh Arizona resort. He agreed to slash his annual salary to $1 as part of a series of voluntary pay restrictions by top executives tied to the massive government bailout.
"People are well paid to make decisions," he said on PBS in 2006. "So what you really have to guard against is an encroachment in accountability and responsibility."
E-mail to a friend

All About Edward Liddy • American International Group Inc. • Allstate Corporation • Hurricane Katrina