By Deb Feyerick and Sheila Steffen
CNN





BALDWIN, New York (CNN) -- Olive Thompson's living room is filled with dozens of delicate glass figurines: swans, angels, Asian dolls. She has spent the past five years fixing this house. The bedroom is pink, the kitchen dotted with red pots and pans.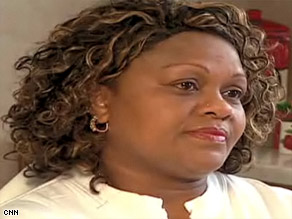 Olive Thompson said the terms of her loan were not fully explained to her.
The house on New York's Long Island isn't big, but it is hers. Or at least, it was.
Like millions of Americans, Thompson got caught up in the subprime fiasco, taking a loan that started in 2003 with a low interest rate before adjusting two years later to a rate far above what she could afford. Now, the bank owns the home, and eviction papers are on their way.
Yet rather than move, Thompson is gearing up for battle. She has enlisted the help of a team of people calling themselves "home defenders." More than 1,000 defenders have signed up online.
They are fellow homeowners, concerned citizens and activists who are trained in civil disobedience. They are ready to confront anyone who shows up to evict Thompson, even if it means being arrested.
"Go to jail? Hell, yes," said Thompson, a nurse's aide who works two jobs. "I put my whole life in this house, and I don't think I should walk away from it. It's not my fault."
She says the terms of her subprime loan were not fully explained. She did not realize, she says, that her interest rate would go up.
Don't Miss
From New York to California, in 13 states across the nation where foreclosures are highest, homeowners are calling on home defenders to stand with them to stave off eviction. They're part of a civil disobedience campaign organized by the sometimes controversial advocacy group ACORN. The acronym stands for Association of Community Organizations for Reform Now.
Its chief executive officer, Bertha Lewis, said, "Time after time, we've seen, if a family had just held on for a week, a month, they could have avoided eviction altogether."
ACORN has called for a 90-day moratorium on all foreclosures and evictions pending changes called for in President Obama's housing assistance plan, which the organization said on its Web site "will do the job that the previous all-voluntary efforts have failed to do."
Obama's plan calls for companies to help as many 4 million struggling borrowers by modifying loans so housing payments are no more than 31 percent of monthly gross income. Separately, homeowners who haven't missed a payment can refinance into lower-cost loans even if they have little or no equity. The $75 billion loan modification plan is designed to help up to 5 million homeowners.
At ACORN headquarters in Brooklyn, New York, Lewis sweeps her hand over two dozen cubicles and explains that when a call from a distressed homeowner comes in, teams of home defenders are quickly dispatched to the location. They have assisted hundreds of homeowners, Lewis says.
"We text people; we e-mail folks; word of mouth goes out. 'It's 101 Main St. We need you there right now,' " Lewis explained. The advocates carry signs and chant slogans like, "Stop foreclosure; save our homes."
She says her teams are trained to act peacefully if confronted by law enforcement. Their primary purpose is to show support for the people facing eviction.
"We are not there for any violence. It's all nonviolent, trained in the classic civil disobedience," she said. "If you're asked to leave, we will leave. We might leave in handcuffs, but we will leave, and things are peaceful."
The concept of home defenders was born of the constant flow of families who came to the offices to get loan counseling. Lewis says the ACORN counselors were being repeatedly stymied by banks and financial service providers who were unwilling to work with homeowners on the terms of their mortgages.
"And time after time and meeting after meeting, we had homeowners that would say, 'that's it. Hell, no, I won't go,' " she said.
So ACORN looked at what it thought were successful squatting campaigns and moving programs and from those examples came up with the home defenders campaign, Lewis says.
The goal: to delay eviction and perhaps buy the homeowner crucial time.
Although Thompson no longer has any legal right to her home, she hopes she can persuade the bank to sell it back to her at a fixed rate.
For now, Thompson says, her home is watched at all hours so even if she is at work and the sheriff shows up, home defenders will protect her property as long as possible.

"When it goes down, it goes down, but I'll be fighting. I'll be fighting going down," she said.
When asked what will happen to her four children if she is thrown in jail, she said, "Well, they're coming, too, 'cause we're all fighting."
E-mail to a friend

All About Subprime Lending • Association of Community Organizations for Reform Now Inc.