(CNN) -- The nation's economic outlook continues to be bleak. Unemployment is up, a mortgage meltdown has left homeowners in trouble, and many businesses are hurting.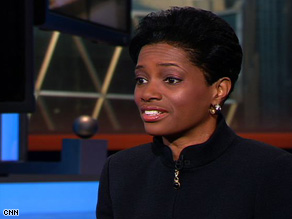 Karen Wells, vice president of strategy and menu at McDonald's, applauded the chain's variety of food.
But amid the bad news, McDonald's is pulling ahead. Just a few years ago, the company was lagging in sales, and share prices were much lower. Now, its profits and stock price are up, and business is booming.
How has McDonald's been able to thrive? To answer that question, a company executive spoke Wednesday with anchor Kiran Chetry on CNN's "American Morning." The following is a transcript of their conversation:
Kiran Chetry: Well, while many restaurants are hurting in this economy, McDonald's profits are actually on the rise. So, can we attribute that to the low prices for value meals, and if so, are people sacrificing nutrition to save money?
We're "Minding Your Business" this morning, and Karen Wells is the vice president of strategy and menu for McDonald's. And she joins me now. Thanks so much for being with us.
Karen Wells: Thank you.
Chetry: You know, even Jim Cramer over at CNBC had an interesting article about the changes that have happened over the past even three years for McDonald's. You guys were trading at about 12 bucks a share and lagging in sales. People were talking about whether or not you guys were going to make it. And now you're seeing quite a surge. You're paying a dollar dividend per share. What changed?
Road to Rescue: CNN Survival Guide
Unprecedented reporting on the money meltdown that's changing your life
This week on CNN

Wells: Well, there's two things that's really attributed to McDonald's success. First and foremost, listening to our customers. It's menu variety, it's value and affordable prices at McDonald's and the convenience that only McDonald's can offer.
The other piece is our system alignment around one plan. You know, under the arches we have a term called the three-legged stool. It's our franchisees, our suppliers and our corporate staff working together. Those are the two things that have worked for McDonald's and our success.
Chetry: No, but it's interesting, because I mean, there are other, I guess you could say, companies that offer perhaps comparable prices. I mean, other fast-food places. How has McDonald's been able to weather this recession that we're in and actually find a way to be profitable?
Wells: You know, it really ...
Chetry: What makes you guys different, I guess, than, say, the Burger King or the Taco Bell?

Watch what contributed to McDonald's success. »
Wells: Well, it goes back to what I said earlier. It is about listening to our customers, evolving our menu and our choices for our customers on our strong base, Big Macs and fries that they've come to expect at McDonald's as well affordable prices and value. Those are the components that have made us successful. And the one thing that is a competitive advantage for McDonald's is our strong franchisee base, our corporate staff, as well as our suppliers. Those two things together really has made us successful.
Chetry: It's interesting because critics say, you know, the food's cheap, but it's an unhealthy option for families looking for affordable food, that even the salads come with fried chicken on them or cheese on them. What do you say to this image problem that some people have that McDonald's equals unhealthy?
Wells: Actually, McDonald's has a variety of choices for our customers. In fact, you can get any product any way you want it to suit your nutritional needs. We have products that range from our premium chicken salads, our premium sandwiches that come with chicken. We have grilled chicken if that's the choice in terms of managing calories. So, it's really about choice. And McDonald's has a lot of choices for customers based on their nutritional needs.
Chetry: One little piece of advice, if you were giving it -- not to your competition, but to other companies: How do you weather this recession?
Wells: The bottom line is, you've got to focus on the customers, what they want, and evolve with the customers' needs, is exactly what is a success for McDonald's today. And we've done it through out menu. We've done that with our value. And it's the key to our success.

Chetry: Well, Karen Wells, it's great to talk to you this morning. Thanks so much for joining us.
Wells: Thank you, Kiran.
E-mail to a friend

All About McDonald's Corporation • Diet and Nutrition • National Economy