By Mayra Cuevas-Nazario
CNN





(CNN) -- Vermont Gov. James Douglas announced Wednesday that he plans to veto a bill that would grant same-sex couples equal rights in marriage, if the bill reaches his desk.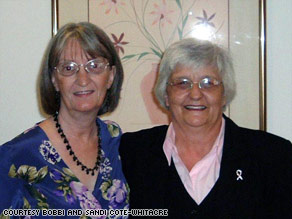 Bobbi Cote-Whitacre, 62, left, and her spouse, Sandi Cote-Whitacre, 63, have been together for 42 years.
"I believe our civil-union law serves Vermont well and I would support congressional action to extend those benefits at the federal level to states that recognize same-sex unions," the Republican said in a written statement. "But, like President Obama and other leaders on both sides of the aisle, I believe that marriage should remain between a man and woman."
In a telephone interview, Vermont Senate President Pro Tem Peter Shumlin, the main sponsor of the bill, described Douglas' decision as "cowardly."
"You cannot veto love and commitment between two people," the Democrat said. "This is a civil-rights issue. It is time for the governor to show some courage."
The same-sex marriage bill passed 26-4 in the state Senate on Monday; the House was in hearings on the matter this week.
Sandi Cote-Whitacre, 63, and her spouse, Bobbi Cote-Whitacre, 62, said they have waited 42 years -- the time they have been partners -- for the vote.
"We have been together for so long and this means so much to us," said Bobbi Cote-Whitacre, who expressed disappointment at the governor's announced intention to veto the same-sex marriage bill.
Don't Miss
The couple were joined in a civil union in Vermont in 2000, shortly after the state passed the nation's first civil-union law. Bobbi Cote-Whitacre's mother, then 89 years old, walked the couple down the aisle.
But when same-sex marriage became legal in Massachusetts four years later, they tied the knot "officially."
Bobbi Cote-Whitacre described civil union as a "separate but equal institution -- when you tell people you are in a civil union they don't understand what it is. When you tell people that you are married, everyone understands. After I got married, I finally felt safe."
Beth Robinson, a lawyer with the advocacy group Vermont Freedom to Marry, agreed. "Civil unions were a great step, but we always knew it wasn't equal," she said in a telephone interview. "We need to get rid of the artificial lines and come together as one. If civil unions would be equal to marriage, you would have to ask if Vermonters would trade their marriage for a civil union."
Douglas disagreed. "Vermont's civil-union law has extended the same state rights, responsibilities and benefits of marriage to same-sex couples," the governor said.
The focus of the state's Legislature should be on the "state's economic and budgetary challenges," he added.
That argument did not impress Shumlin, the bill's sponsor.
"The fact is that the Legislature is capable of doing more than one thing at a time," he said.
The House, which is expected to vote this week, would need to approve the bill by a two-thirds majority to override the governor's threatened veto.
Meanwhile, the Cote-Whitacres and Vermont Freedom to Marry have launched a television advertising campaign to promote the bill.
Whatever the outcome, Sandi Cote-Whitacre said she and her spouse are willing to be patient.
"We are going to keep at it even if we have to go down the aisle with walkers," she said.
In addition to Massachusetts, same-sex marriage is legal in Connecticut.
E-mail to a friend

All About Same-Sex Marriage • Vermont • James Douglas