By Wayne Drash
CNN






(CNN) -- Residents in the flood plains of North Dakota need to flee to high ground because "you cannot depend on a sandbag dike to save your life," said Lt. Gen. Russel Honore.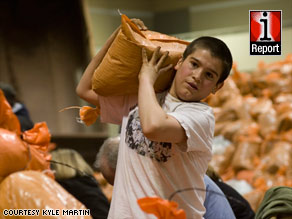 A young volunteer helps haul sandbags at the Bismarck Civic Center in North Dakota on Thursday.
Honore, who led the military response to hurricanes Katrina and Rita in 2005, said his biggest concern is the frigid temperatures of the water in North Dakota and the potential of people freezing to death.
"If you get caught in that floodwater, you will not be able to last very long," he said.
Honore is now retired from the military and speaks about emergency preparedness. He also is a CNN contributor. He spoke about the North Dakota floods earlier Friday.
CNN: How do you evacuate an entire town, especially when you're talking about tens of thousands of people?
Honore: The first thing you do is start with the most vulnerable population and get people to start moving now. The dilemma the local folks in Fargo and Bismarck have is that much of the population is involved with the sandbagging operation, which is good. But there comes a point in time where you need to start getting people to move, especially the most vulnerable people and animals that could get caught in the water. The problem in North Dakota is compounded by the temperature of the water.
If you recall last year, when we had the flooding in the Midwest, the water was warm. People could walk in there and they could walk out from small boats. But in this cold water, you can go into hypothermia quickly. If you get caught in that floodwater, you will not be able to last very long. If you're in there for a half hour, your body will start to deteriorate.
Early evacuations and getting people out and getting animals out is critical right now. And the long-term plan is how do we mitigate that and not have nursing homes inside a flood plain.
CNN: What are your biggest concerns at this point?
Honore: Getting people moving. You cannot depend on a sandbag dike to save your life. You put it up to try to save your property. Once you put it up, you need to leave, because that sandbag dike could break at any given time. The effectiveness of the sandbags deteriorates with the cold water because they don't hold the water in. They start leaking, and a leak turns into a flow, and a flow turns into a break.
Don't Miss
So the effectiveness of the sandbag dikes is going to be questionable in that cold water.
CNN: How imperative is it for people to heed the warnings of local officials?
Honore: They need to move now if you're in the flood plains. If you have a break in the dike, it will start slow, but it will immediately burst through and you'll have a wall of water going down streets. And it'll be too late for people to get out.
And so anybody who is vulnerable at this point in time in low-lying areas ... needs to be evacuated. They need to start going door to door now and start seeking out the elderly and the disabled to make sure they have gotten all of them out of town. And then if there are any animals left behind they need to get those out, because if they get in that cold water they're going to have a tough time surviving.
CNN: Where do evacuations sometimes go wrong?
Honore: People get mixed messages. My thing on levees and dikes you put up is they're good to give you early warning and they're good to protect your property. But they're not good at saving your life, because they're too subject to break. The power of Mother Nature will break those levees and dikes, and it can break those sandbags.
It's a noble effort going on with the leadership and the volunteers to put up those sandbags. And you've got to praise the amount of time working people have put in. But that being said, you should not depend on that to save your life. Once you get those sandbags up, you need to move to high ground. And they need to get all of the evacuations done in the flood plains. The maps they have are very effective in showing where a flood plain is. Anybody sleeping overnight waiting for a horn to go off to tell them a levee has broken -- it's going to be too late to move.
People need to move now. Move their animals, move their property, any construction equipment, trucks, precious papers in their homes. All of that needs to be moved to high ground.
CNN: When you're dealing with the possibility of several different levee breaks, how does that affect evacuation plans?
Honore: It causes stress. Everybody who has a car is not an issue. The issue is with the elderly, the disabled and the poor who may not have vehicles. Get them all collected up now and move them to shelters. That's a very important thing to happen.
But people get mixed messages: 'We've got the dike up and we're confident it's going to hold.' Well, there's no confidence that a dike is going to hold. There's no confidence that a levee is going to hold. All of them over time we've seen can be overmatched by water.
So if you're behind there and you're depending on it to save your life, you should not. You should move now. They really need to start moving people now. It's mandatory evacuations, because sometimes you really gotta force people to leave. Now, they will tell you they have a constitutional right to stay in their home. But if you have a mobility issues with the elderly, I'm of the opinion you should have the authority to move them. If they stay in there and that levee breaks, again this will not be paddling around in waist deep 80 or 90 degree water; this water is 30 or 40 degrees. It will kill you.
This has the potential to be a lot worse than the last flooding they saw in the area.
CNN: Would that be your biggest concern that first responders and volunteers are doing all this hard work and they could rest on their laurels thinking they've made these areas safe?
Honore: That's right ...
There can be a sense of insurance that we've worked hard and we've put the dikes up. But I would not sleep behind those dikes. I would move people to high ground now, and that's what they need to be doing in North Dakota and Iowa.
I praise the first responders for the work they've done, but their priority now should be to get people out of the flood plains.
[Dikes and levees] are designed to save property, but they're not designed to save lives. People need to move.
CNN: What's your final message for residents in the region?

Honore: Get out of there. Leave some report folks to monitor what's going on. But get the people out of there. That should be the No. 1 priority. The Red Cross and FEMA have moved assets in there. Shelters are set up. The government has done a good job, from what I'm seeing, in giving early warning and being on top of the situation. But now is the time to get people evacuated.
And you know what? If they move and nothing happens, that's a good thing. If they stay and those bags break, it's going to be devastating on those people who get caught in that cold water.
E-mail to a friend

All About North Dakota • Fargo • Floods