Editor's note: CNN affiliates report on where job seekers are finding work across the country and how those looking for employment are coping with the situation.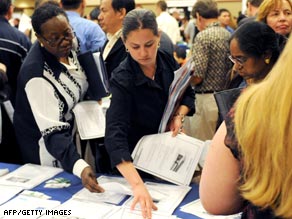 Job fairs, like this one held this week in Rancho Cucamonga, California, often are filled to capacity.
(CNN) -- Job fairs are getting more competitive. Recent events across the nation drew thousands of people and one fair was so packed organizers had to turn people away.
In New Hampshire, organizers had expected 5,000 people to show up at the Project Economy Job Fair. Twice that many showed up in the first two hours.
Traffic was snarled on I-293 in Manchester and parking lots near the event swelled to capacity.
"If I had known this, I would have been here at 6 o'clock this morning," Claudette Grizios told WMUR.
About 140 businesses attended the fair looking to hire more than 1,000 people. Because so many people were turned away at the door, organizers said they would hold another event in the "next few months." iReport.com: Share your job hunt story
In Indiana, more than 1,000 people had preregistered for a job fair involving 95 business and 2,800 potential jobs.
"A lot of what we're here for today ... is to look at the experienced workforce -- the journeyman hires -- scientists, engineers, contract specialists," Doug Crowe, of Crane Naval Warfare center, told the Indy Channel. His group was looking to hire 300 people this year.
Job seeker Paul Myer said the competition for work is intense in this economy.
"There are so many people in the same line of work that are fighting for the same job. It's tough," he said.
Read the report on the Indy Channel
In California, competition was also intense at a job fair for teachers.
"What's been interesting is the number of experienced teachers walking around," Sergio Montenegro, superintendent-principal of Chualar Union Elementary School, told KSBW.
Alejandro Hogan, associate superintendent of the Salinas Union High School District, said he had interviewed 10 people and thought he probably would make an offer to seven of them.
Some teachers at the event said they were surprised because the few jobs that are available are more specialized.
Midwest: Arkansas library busy with unemployed patrons
Public libraries are seeing increased traffic due the large numbers of unemployed people coming in to use the free services.
In Rogers, Arkansas, Alisha Walker told KHBS/KHOG that she had been out of work since November and was using her free time to learn new material.
Walker used to work with plants but uses her free time to learn PowerPoint and other computer skills.
"I can find any kind of books I need to help train in any kind of programming field," Walker said.
A lot of the people coming in are using computers to research and apply for jobs, said Robert Finch, the assistant director of the Rogers Public Library. There is a time limit on the 60 computers and some folks are exceeding the limit trying to fill out as many applications as they can, Finch said.
More people also are coming in to check out books and DVDs, Finch said.
Southeast: iPhone support center to hire 240 in North Carolina capital
Affiliated Computer Services plans to hire 240 people for its customer service center in Raleigh, North Carolina.
Customer care personnel and managers are needed, a company official said.
"These positions reflect growing demand for iPhones and the fact ACS has demonstrated we have the ability to ramp up this many positions quickly and to meet technical demands," ACS spokesperson Chris Gilligan told WRAL.
ACS said it wants to hire 600 people across the country. The company has 3,100 employees total.
West: Brand new Wal-Mart bringing 375 jobs to Idaho town
A Wal-Mart Supercenter will open in June in the southern Idaho town of Twin Falls. The store will employee 375 workers.
"We are looking for leaders; we are looking for those who need a job right now that can just make sure that customer service is the focus," said store manager Crystal Lilya.
The store is under construction and managers are going through hundreds of applications from job seekers.
"I would call Wal-Mart sunshine right now," said Marti Odell, who interviewed with store officials. "Four-hundred people, almost 400 people, is a lot of people to put to work in a community the size of Twin Falls."
According to a 2006 census estimate, there were about 40,000 residents in Twin Falls.
Watch the report on KTVB
Northeast: Benefit held to help female job hunters get interview suits
A high school gym in Portland, Maine, was the site of a fundraiser for Dress for Success.

The charity provides interview clothing for female job applicants. Dresses were sold for $10 at the benefit. Shirts and skirts cost as little as $5.
E-mail to a friend

All About National Economy • Job Searching