By Evan Buxbaum
CNN





NEW YORK (CNN) -- The saying goes, "Nothing is certain but death and taxes." But the current troubling economic times has even the "death" industry feeling a bit lifeless, as families look to cut funeral costs.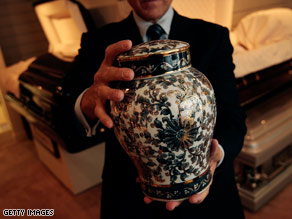 Reports suggest more people are turning to cremation to save on funeral costs.
More than 21,000 funeral homes are in the U.S., employing some 105,000 people, according to the National Funeral Directors Association. The $11 billion-a-year industry is largely comprised of privately run firms, with 89 percent of all funeral homes being owned by families, individuals or small independent corporations.
One such family-run business is the John Scanlan Funeral Home in Pequannock, New Jersey, which has been assisting families with funeral preparations since 1954.
John Scanlan's daughter, Kiera Scanlan-Wespestad, is the current funeral director, and she explained that her business prepared 248 funerals in 2008. As for the cost of a full service funeral, "you're probably looking at around $6,000-$7,000 depending on how large the newspaper notices are or how many limousines you want," said Scanlan-Wespestad.
The funeral directors association said an estimated cost of an adult funeral was approximately $6,195 in 2006.

Watch how the bereaved are cutting back »
With people cutting back during the faltering economy, expenditures on funeral-related goods and services have also been scaled back.
Don't Miss
"We've definitely seen a rise in cremation" Scanlan-Wespestad told CNN. Her business has seen an 11 percent jump in cremations because of family financial considerations, she said.
"On average, a family can save up to $4,000, $5,000 by choosing cremation, so that's not really surprising in this economy," she said.
The Cremation Association of North America reports that the practice has been rising annually nationwide, with nearly 40 percent of all deaths in the United States expected to result in cremation by 2010. The No. 1 reason for this pattern, according to the association, is cost -- 30 percent of people surveyed said that cremation saves money.
Bob Gist of Rosedale Cemetery in Montclair, New Jersey explained the financial appeal of cremation.
"Here at Rosedale the actual price is $345, where if you were to bury someone it would run about $3,000."
In addition to the wider adoption of cremation by the public, Scanlan-Wespestad said that everything from funeral financing to casket quality has been adversely impacted over the past year as people cut costs in all aspects of life -- and death.
Ralph Rullis, owner of a headstone business, has seen demands drop as well. Rullis' Lincoln Monument Company has been around since 1945. He has seen a major drop off in business recently.
"People are coming in looking for the cheapest, smallest monument that they could buy, which is not usual for most families who have lost a loved one," he said.
Rullis said his business has dropped off by about 25 percent. "This is the quietist" period in his career selling gravestones and monuments, he said.

While economic struggles have prompted grave sacrifices when preparing for a loved one's funeral, there is an upside for the industry.
"We're pretty sure all of us are going to pass away," Rullis said, so families will continue to desire a variety of available means to memorialize the recently departed.
E-mail to a friend

--CNN's Joe Vaccarello and Lauren Vu contributed to this report
All About New Jersey • National Funeral Directors Association