Editor's note: CNN affiliates report on where job seekers are finding work across the country and how those looking for employment are coping with the situation.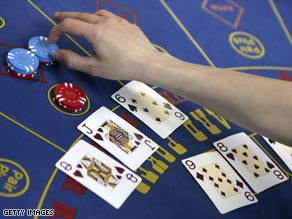 A Colorado casino is auditioning 150 candidates for dealer positions.
(CNN) -- For some, winning at a casino doesn't mean a stack of chips; it means a job.
Golden Casino Group is hiring 50 to 60 positions at its casino in Blackhawk, Colorado. After 1,200 people brought in applications, the company asked 150 to come back for a dealer training programs.
Nancy Chinda told 9News in Denver that she had been laid off from a job in real estate marketing, and her unemployment benefits run out in a few months. iReport.com: Share your job hunt story
"It's do or die, I guess," she said as she dealt cards.
The dealers who are hired will start their new jobs in July. Read the full report on KUSA
West: Airline serving smaller cities grows bigger
Allegiant Air thinks of itself as the plane service for small-town America. While many airlines are hurting, the Las Vegas, Nevada-based company has added 15 percent more passengers in the first quarter of the year compared with 2008.
"We are creating jobs. We are hiring. We are growing," Chief Financial Officer Andrew Levy told KLAS.
The company plans to add as many as 10 more planes this year to its fleet of 43, he says.
Debi Norton flew to Las Vegas from Bismarck, North Dakota.
"They are actually half price of the other two airlines that fly into Bismarck. The flight was wonderful," Norton says.
Among the departure towns listed on the Allegiant Web site are Bangor, Maine; Kalispell, Montana; and Roanoke, Virginia. Read the full report on KLAS
Northeast: Outlet mall brings jobs to Maine town
A new 120,000-square foot retail center is bringing jobs to Freeport, Maine. The mall will have 40 outlet stores.
The Freeport Merchants Association hosted a job fair attended by hundreds of people. More than 400 showed up during the first hour.
"I had been in sales before, in other types of positions, and I just kind of fell into the job that I was doing," job seeker Leah Selvoski said. "I just progressed and had a great boss, and he pushed me up the ladder, and oh, well, the ladder broke."
Eleven companies took applications, officials told WMTW. Many of the jobs available were part-time, but there were also openings for full-time managers.
The town is best known for being the home to L.L. Bean. Watch the report on WMTW
Southeast: Company sees economic environment as 'silver lining'
In Atlanta, Georgia, there is a company that says it is hiring 30 to 40 people every few weeks.
Don't Miss
Cbeyond is a communications technology company that has expanded from six people to 1,700 employees in the past 10 years.
Jim Geiger, CEO of Cbeyond, said, "The silver lining on the economy's condition, to us, is a bigger candidate pool and fewer options [for them]."
Cbeyond was mentioned prominently in a Careerbuilder.com article about 25 companies that are hiring college graduates this year. Read the full report on WXIA
Midwest: Small businesses get help from banking group
People hoping to start a small business in Cape Girardeau, Missouri, will have a better chance to get seed money.
Ten banks have formed the Cape Girardeau Area Community Development Corporation, designed to stimulate the local economy, giving financial help to small businesses. The organization will share some of the risk with small businesses that get loans.
"It's the people that are wanting to do that new enterprise, form that new corporation, that want to build that new commercial venture" that would be helped, said Moe Sandfort, Community Development Corporation board president. Read the full report on KFVS
Midwest: Kansas plant to hire 150 employees over next few years
Systemair, a ventilation company, is renovating a plant in Lenexa, Kansas and is taking applications for all kinds of workers.
The company, which sells Fan Tech products, will hire 39 people this year, plant manager Bryan Dill says.
"They'll be everything from assembly labor to engineering to quality as well as [working] in the management structure as we grow," he said.
The company plans to grow to 150 employees at the Lenexa plant by 2014. Read the full report on KSHB
E-mail to a friend

All About Job Searching • National Economy