UNITED NATIONS (CNN) -- Bolivian President Evo Morales said Wednesday he does not regret expelling the U.S. ambassador last year, maintaining again that the envoy was plotting with opposition politicians.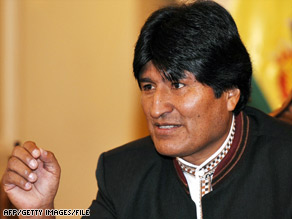 Bolivian President Evo Morales maintains the U.S. ambassador was plotting against Morales' government.
Bolivia declared U.S. Ambassador Philip Goldberg persona non grata in September and ordered him to leave. Goldberg denied that he encouraged anti-government demonstrators to commit violent acts.
"I don't regret having expelled the ambassador, Mr. Goldberg," Morales said in an exclusive interview Wednesday with CNN en Español. "And now, with the events we are seeing and we are finding, it is confirmed that he was conspiring against the government, conspiring against the national territory. He is an expert in dividing countries, with external groups and in Bolivia."
Morales also expelled a lower-level U.S. diplomat last month, accusing him of contacting opposition groups.
Morales indicated Wednesday, however, that he is open to reviewing the issue since President Obama is in office.
"With the new times," he said, "we expect to improve diplomatic relations. So we have to revise our politics. You can't conspire against us nor blackmail us. But if there's mutual respect, welcome."
Morales also said an assassination plot against him and other government officials that he alleged last week was real. Three gunmen were killed and two others were arrested Thursday after a 30-minute firefight in the city of Santa Cruz. At least two of the gunmen were foreigners, Bolivian authorities said.
Morales said last week he had been aware of the assassination plot, which was verified after the arrest of the gunmen.
Opposition politicians expressed doubt about the plot, saying Morales had made similar allegations in the past based on flimsy evidence.
The gunmen, he said Wednesday, wanted "to take power violently and also undemocratically. But also, if they could not take power, divide a region of the country. ... And for that, they had to take lives."
Morales did not mention who might want to divide the country, but five resource-rich eastern regions and the eastern province of Gran Chaco have been seeking greater autonomy.
Earlier Wednesday, Morales addressed the United Nations in observance of Earth Day. He called for the nations of the world to accept a set of principles that would protect the planet's resources and "right to life."
Morales, the first indigenous president in Bolivia's history, told the U.N. General Assembly that people cannot put their interests above those of the Earth.
"Not just human beings have rights, but the planet has rights," he said. "What's happening with climate change is that the rights of Mother Earth are not being respected."
Telling the U.N. delegates that "we have the challenge to agree on a universal declaration for the rights of Mother Earth," Morales outlined four principles that he asked them to consider:
The right to life: "The right for no ecosystem to be eliminated by the irresponsible acts of human beings."
The right of biosystems to regenerate themselves: "Development cannot be infinite. There's a limit on everything."
The right to a clean life: "The right for Mother Earth to live without contamination, pollution. Fish and animals and trees have rights."
The right to harmony and balance between everyone and everything: "We are all interdependent."
Morales pointed out how indigenous people in Bolivia have rites and rituals to honor the Earth.
"We now must begin to realize that the Earth does not belong to us," he said. "It's the other way around. We belong to the Earth."
Earth Day was started in 1970 in the United States as a way to bring awareness to the ecological problems plaguing the planet. It is celebrated in many parts of the world.
E-mail to a friend

All About Evo Morales • United Nations • Global Climate Change