By Mallory Simon
CNN






ATLANTA, Georgia (CNN) -- Eleven-year-old Jaheem Herrera woke up on April 16 acting strangely. He wasn't hungry and he didn't want to go to school.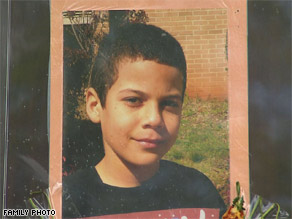 Jaheem Herrera's mother thinks he hanged himself because he was perpetually bullied at school.
But the outgoing fifth grader packed his bag and went to school at Dunaire Elementary School in DeKalb County, Georgia.
He came home much happier than when he left in the morning, smiling as he handed his mother, Masika Bermudez, a glowing report card full of A's and B's. She gave him a high-five and he went upstairs to his room as she prepared dinner.
A little later, when his younger sister called him to come down to eat, Jaheem didn't answer.
So mother and daughter climbed the stairs to Jaheem's room and opened the door.
Jaheem was hanging by his belt in the closet.
"I always used to see these things on TV, dead people on the news," says Bermudez. "I saw somebody die and to see this dead person is your son, hanging there, a young boy. ... To hang yourself like that, you've got to really be tired of something."
Bermudez says bullies at school pushed Jaheem over the edge. He complained about being called gay, ugly and "the virgin" because he was from the Virgin Islands, she said.
"He used to say Mom they keep telling me this ... this gay word, this gay, gay, gay. I'm tired of hearing it, they're telling me the same thing over and over," she told CNN, as she wiped away tears from her face.
But while she says her son complained about the bullying, she had no idea how bad it had gotten.
"He told me, but he just got to the point where he didn't want me to get involved anymore because nothing was done," she said.
Bermudez said she complained to the school about bullying seven or eight times, but it wasn't enough to save him.
"It [apparently] just got worse and worse and worse until Thursday," she said. "Just to walk up to that room and see your baby hanging there. My daughter saw this, my baby saw this, my kids are traumatized."
She said Jaheem was a shy boy just trying to get a good education and make friends.

Watch what experts say about bullying in schools »
"He was a nice little boy," Bermudez said through her tears. "He loved to dance. He loved to have fun. He loved to make friends. And all he made [at school] were enemies."
Bermudez said she thinks her son felt like nobody wanted to help him, that nobody stood up and stopped the bullies.
"Maybe he said 'You know what -- I'm tired of telling my mom, she's been trying so hard, but nobody wants to help me,' " says Bermudez.
After Jaheem's death, the school board expressed condolences, saying the school staff "works diligently to provide a safe and nurturing environment for all students."
Trying desperately to understand what went wrong, Bermudez asked her son's best friend to recount what happened on the day Jaheem killed himself.
"He [said he was] tired of complaining, tired of these guys messing with him," Bermudez said, recalling the conversation with Jaheem's best friend. "Tired of talking, I think to his teachers, counselors and nobody is doing anything -- and the best way out is death."
Suicide hotline numbers
National Suicide Prevention Lifeline: 1-800-273-TALK (8255)

National Suicide Prevention Hotline: 1-800-SUICIDE (784-2433)

Allegations of such severe bullying surprises experts familiar with the school district. Its anti-bullying program was considered exemplary and includes programs to raise awareness and a specially trained liaison. Students are even asked to sign a no-bullying pledge. But other parents told CNN they have complained about bullying as well.

Despite recent strides towards preventing bullying in schools and increased awareness programs, a Gay, Lesbian and Straight Education Network study showed that 65 percent of teens are bullied each year and most believe adults can't help them.

Less than a month before Jaheem's death, a boy in Massachusetts killed himself after being bullied, harassed and called "gay."

Eliza Byard, executive director of the Gay, Lesbian and Straight Education Network, says to be effective, awareness programs need to include education about the harm that can be done by teasing someone about sexuality or perceived sexuality.

"Anti-gay language is really the ultimate weapon for a bully who wants to degrade his or her peers," she says. "And any effective response to bullying has to take that on."

Bermudez doesn't understand why the children at school couldn't learn to get along. Because of it, she'll never get to see her son grow up.

"My baby, that's my only boy, and I lost him now," says Bermudez. "He was my first child and ... to lose him 11 years after, he didn't live his life."

She hopes her son's death will result in positive changes that will help other kids being bullied.
"Those that are being bullied -- they need to talk to their parents, they need to not hold back," she says. "I lost my son and now something has to be done."
E-mail to a friend

CNN's David Mattingly and Mike Phelan contributed to this report.
All About Suicide