Editor's note: CNN affiliates report on where job seekers are finding work across the country and how those looking for employment are coping with the situation.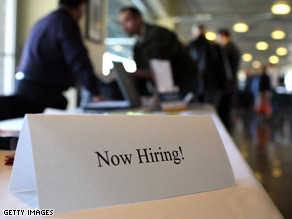 Job fairs are becoming more popular and are seeing record attendance.
(CNN) -- A record number of senior citizens attended a job fair this week in Loveland, Colorado.
The fair, which targeted people 50 and older, drew the biggest crowd -- about 900 people -- for the annual event.
Nan Cooper, a job seeker, said applicants have to do more these days than just walk into a prospective employer's office with a resume.
"[Times] have changed radically," she told KMGH in Denver. "I've spent countless, countless hours on the Internet and filling out applications." iReport.com: Share your job hunt story
She said she had even applied for jobs through the online auction site eBay.
Northeast: Job week seeks to solve 'disconnect' between employers, job hunters
Employers in the Pittsburgh, Pennsylvania, area say they are having a difficult time filling 22,000 available positions.
Mayor Luke Ravenstahl said this week the city would increase its participation in a job placement program, both monetarily and through city organizations.
The mayor made his remarks as part of a kickoff event for Imagine Career Week, which links high school students and employers.
A spokesman for one of the groups sponsoring the week's events said there shouldn't be so many employers with open spots.
"At the same time, we have young people walking around famously saying that they can't find a job. There's a big disconnect there someplace," Paul Leger of the Allegheny Conference told WTAE.
During the career week, students will visit businesses and prospective employers will visit classrooms.
Southeast: Wal-Mart to increase its N.C. workforce by nearly 6 percent
Wal-Mart said Wednesday it plans to add 3,000 jobs in North Carolina.
The retail chain currently employs 51,000 people at 155 locations in the state.
"In a time when many are suffering, we want North Carolinians to know that we are here to stay," David Cameron, general manager for the Carolinas, told WRAL of Raleigh.
He did not say where the jobs would be located.
North Carolina is one of eight states with unemployment above 10 percent.
Southeast: Military recruiter sees more potential airmen
Technical Sgt. Greg O'Conner is staying very busy these days. He is an Air Force recruiter in Bradenton, Florida.
"With the way the economy is, recruitment is up," he told Bay News 9. "I get dozens of calls every day and walk-ins from young men and women interested in joining the Air Force."
One of his recruits was 20-year-old Dakota Slentz, who cannot afford to go to law enforcement training school. He said the Air Force offers a chance for great experiences as well as a great salary.
In statistics provided by the Department of Defense, the Air Force has reported meeting its recruiting goals each month of the fiscal year, which began in October.
Read the full report on Bay News 9
West: Sacramento project to bring thousands of jobs
A building developer in Sacramento, California, says plans to turn rail yards into a residential and commercial district will require thousands of workers over the next 20 years.
Suheil Totah of Thomas Enterprises told KCRA that initial projects like building roads will mean jobs for 3,000 people. The company said more than 56,000 people will be needed for the project in the next two decades.
The 244 acres will be converted into a mix of homes, businesses, entertainment venues and government offices.
Around the nation
Tennessee will use federal stimulus money to hire 12,000 people ages 24 and younger, WSMV reports.
A food company is converting a North Carolina textile plant and bringing 172 jobs, WXII reports.
E-mail to a friend

All About Job Searching • National Economy