WASHINGTON (CNN) -- A U.S. government panel listed 13 countries Friday as "egregious" violators of religious freedom.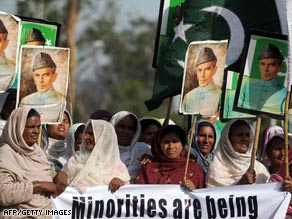 Homeless Pakistani Christians protest last month in Islamabad for protection of Christian minorities.
The U.S. Commission on International Religious Freedom's annual report named Myanmar, North Korea, Eritrea, Iran, Iraq, Nigeria, Pakistan, China, Saudi Arabia, Sudan, Turkmenistan, Uzbekistan, and Vietnam.
It recommended that the Obama administration designate them as "countries of particular concern" or CPC.
The group has issued a watch list that includes Afghanistan, Belarus, Cuba, Egypt, Indonesia, Laos, Russia, Somalia, Tajikistan, Turkey, and Venezuela, countries that don't rise to the level of a CPC but need to be monitored.
"Unfolding events in Pakistan make clear the relevance of this theme to the 2009 Annual Report. At the time of writing, emboldened Taliban-associated extremists had advanced to within 60 miles of the Pakistani capital of Islamabad," the report said.
"In the areas they already control, these groups are imposing draconian restrictions on human rights and religious freedom and engaging in brutal acts against individuals, particularly women and local police, who refused to accede to their repressive policies."
The federal commission is bipartisan, and its commissioners are appointed by the president and members of Congress.
A CPC designation gives Secretary of State Hillary Clinton "a range of specific policy options to address serious violations of religious freedom."
It requires the secretary "to enter into direct consultations with a government to find ways to bring about improvements in the respect for religious freedom."
The report covers the period May 2008 through April. The commission was created by the International Religious Freedom Act of 1998.
"While sanctions are a possible policy option, the secretary may decide to develop a binding agreement with the CPC government on specific actions that it will take to end the violations that gave rise to the designation or take a commensurate action," the commission said. "The secretary may determine that pre-existing sanctions are adequate or waive the requirement of taking action in furtherance of the Act."
E-mail to a friend

All About Hillary Clinton • The Taliban