Editor's note: CNN affiliates report on where job seekers are finding work across the country and how those looking for employment are coping with the situation.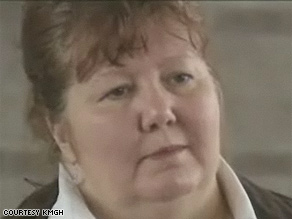 Mary Walker, who was laid off in January, organized a job fair through her church in Loveland, Colorado.
(CNN) -- Mary Walker has organized a job fair with a religious twist. The unemployed training manager worked with other members of the Crossroads Church in Loveland, Colorado, to put together a job fair with 20 prospective employers -- and one prayer and encouragement area.
"Encouragement and hope, that's what we want to bring to people," Walker told KMGH-TV in Denver, Colorado. "And jobs definitely. We'd love to hook up everyone with a job."
Dennis Anderson, a pastor of adult ministries at the church, said Crossroads simply is filling a void.
"Part of our responsibility as a full-fledged member of this community is to meet the needs of people," Anderson said.
Walker said she hoped there would be 200 open positions for which people could apply. Read the report on KMGH
Northeast: Hundreds apply for single job opening as meter reader
The city of Plattsburgh in upstate New York was overwhelmed with applicants after one of its two electricity meter reader positions opened up.
Don't Miss
Usually the city receives 30 to 40 applications for the job. This time more than 200 resumes from job seekers came in to Mayor Don Kasprzak's office. He told WPTZ-TV that he thought the flood of job seekers was a sign of the times and a nod to the desirability of a government job.
"I think the city provides a good starting wage with good benefit package. It's attractive to a lot of people," Kasprzak told the station based in Plattsburgh and Burlington, Vermont.
The new meter reader would join Jim Waldron, who said he reads up to 600 meters a day while walking five miles.
The mayor said the city hopes to have a new employee hired by the end of the month. Watch the report on WPTZ
West: Hundreds line up for fast-food job fair
Nearly 1,000 people waited in line for hours recently to apply for 60 spots at a new In-N-Out burger restaurant in Mesa, Arizona.
The burger chain is hiring 60 employees to staff the new store at the Fiesta Mall.
"We've got some tough decisions to make," Ray Gonzalez, Arizona division manager for the chain, told KNXV-TV in Phoenix. "We've already talked to a lot of really quality people."
Most of the jobs are entry level and pay $10 per hour. One of the applicants was 36-year-old Lamont Herndon, who has been unemployed for three months. He is engaged to be married with a baby on the way. He recently had to sell his car, which he said he could no longer afford.
"I saw the sign on their new store and thought if I have to flip burgers to make money, I'll flip burgers to make money," he said. Read the report on KNXV
South: Veterans courted by call center operator
A veteran who says it is his mission to keep jobs from going to other countries is opening a new business in the military town of Columbus, Georgia.
Fred Landrum, CEO of Prosperity America, a startup teleservices company, told WTVM-TV in Columbus that he was looking for retired military to help staff a call center that eventually will employ 300 people.
"Ours isn't a business, it's a mission. We need to be able to provide quality service our company needs to offer, and we need people who are mission-oriented, disciplined and understand what it takes to achieve a goal. That exists here in the Columbus community," Landrum said.
Columbus has record unemployment numbers after layoffs at Cessna and ClearChannel Radio, WTVM reported. Initial jobless claims for the area in March were up 135 percent from March of the previous year, according to the Georgia Department of Labor.
"While we won't fix all economic ills, maybe we will start a trend and others will follow suit," Landrum told the station. Read the report on WTVM
Midwest: Painter gives free class for unemployed
In Omaha, Nebraska, paint company Sherwin-Williams is helping unemployed people train in proper technique to become painters.
Valancie Doyle told KETV in Omaha that she learned a lot from the 10-day program.
"I painted, but I didn't know I was doing it wrong," she said. "So now I know how to do it right."
The course participants learn how to paint correctly, then receive tools and gear as a graduation reward.
Bill Allman of Sherwin-Williams taught the class and said he was touched by the story of one person who has gone on to a career as a painter.
"This person gained self-respect, gained pride" through the class, he said. "They're still working today." Read the full report on KETV
West: Concert promoter hiring seasonal workers in California
With summer bringing a number of tours, the largest promoter of concerts is hiring 1,500 workers in California.
A third of those hired will be staffing venues in and around Los Angeles.

Matt Prieshoff, a senior vice president for Live Nation, told KABC-TV in Los Angeles, "We're hiring ticket takers, ushers, concession spots, box office personnel, merchandise personnel, so it's really quite a large variety of jobs that we offer."
The jobs are seasonal and don't include medical benefits, but Prieshoff, who started as a ticket taker in 1992, said the work can be a foot in the door. Watch the report on KABC
E-mail to a friend

All About Unemployment Rate • Job Searching