By Bill Mears
CNN Supreme Court Producer





WASHINGTON (CNN) -- Decades-old time off given women for pregnancy leave cannot be counted when deciding pension eligibility, the Supreme Court decided Monday.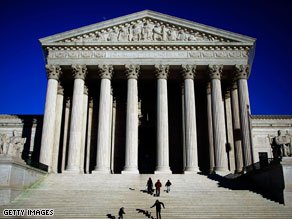 The Supreme Court ruled in favor of AT&T in a discrimination case Monday.
The ruling is a setback for a relatively small class of women, many in or approaching retirement, who took maternity leave before a federal law went into effect prohibiting workplace discrimination.
That 1979 statute, the Pregnancy Discrimination Act, said companies had to treat such time off just like any disability, and it would be credited toward retirement. The question was whether some women should have full credit if they gave birth before the law was enacted.
Four AT&T Corp. employees in California's San Francisco Bay area brought suit in the case, led by Noreen Hulteen, who said she was owed about six months credit, the same someone on disability would have received for approved time off the job. Hulteen and two other plaintiffs have since retired; one has yet to. They filed a claim with the help of their union, the Communications Workers of America.
A federal appeals court in San Francisco rejected the company's arguments that the pension plan was legal when the women took their leave, so they should now not have to give back the credited time for pension calculations.
By a 7-2 margin, the high court agreed with the company.
"AT&T's pre-PDA decision not to award Hulteen service credit for pregnancy leave was not discriminatory," wrote Justice David Souter, who himself will retire from the high court next month. "Bona fide seniority systems allow, among other things, for predictable financial consequences, both for the employer who pays the bill and for the employee who gets the benefit."
The Bush administration, which was in office when the case was argued in December, had urged a similar result. Justice Department officials argued that other employees who would enjoy pre-determined retirement benefits might be shortchanged if a company was suddenly forced to dip into exiting pension accounts to pay for benefits it had not anticipated.
In dissent, Justice Ruth Bader Ginsburg said the burden on the company in this case was small. Giving the woman those benefits would not "expose AT&T to an excessive or unmanageable cost," she said. "The plaintiffs class is not large. ... The periods of service are short -- several weeks or some months, not years."
Ginsburg, a longtime advocate of equal treatment in the workplace, also took a broader view of the issue.
"Certain attitudes about pregnancy and childbirth throughout human history have sustained pervasive, often law-sanctioned, restrictions on a woman's place among paid workers and active citizens," she noted.
The 76-year-old justice's personal experiences collided with monumental social changes in the 1960s. While teaching at Rutgers Law School, she feared losing her non-tenured position when she became pregnant, so she wore large clothing to hide it. One of the first cases she helped litigate as an attorney for the ACLU involved teachers forced to give up their jobs when they became pregnant.
AT&T says it now complies with the discrimination act but also argued that the women waited too long to make their claims. The four women in the case countered that a "fresh act of discrimination" exists every time they receive a reduced pension check. But the high court said AT&T's policy was not intentionally discriminatory when it was enacted.
That issue was the focus two years ago of a separate, divisive high court ruling about Lilly Ledbetter. The tire company manager alleged that she was paid less than her male counterparts for equal work about two decades but did not find out about the discrimination until she was about to retire. The high court ruled against her in 2007, saying existing federal law did not allow such lawsuits to be filed so late. Most workers had 180 days to file a claim after the first discriminatory pay decision.
But President Obama made law the Lilly Ledbetter Act in the first bill he signed when taking office in January. It nullified the high court decision and said every new paycheck received over the years based on a discriminatory act, regardless of when the first discrimination occurred, would extend the statute of limitations 180 days.
Some equal workplace advocates called the Hulteen ruling a "terrible blow."
"The decision couldn't come at a worse time," said Debra Ness, president of the National Partnership for Women & Families. "In the current economic climate, women and their families cannot afford to see their retirement benefits kept lower by discriminatory workplace policies that should have been remedied decades ago."
Meanwhile Monday, the Supreme Court rejected the appeal of a man whose arrest and repeated electroshocks by police became the basis of an Internet-driven look at law enforcement conduct.
The justices declined to accept the case, meaning officers will not be held liable for their actions.
At issue was whether a deputy sheriff violated the Constitution's Fourth Amendment by using a Taser electroshock device on a handcuffed but noncompliant man arrested for a misdemeanor traffic offense. A dashboard camera captured part of the sequence of events, and the YouTube.com link of the incident was the main citation used by the man's lawyers when they filed their high court appeal in February.
Also, the Supreme Court sidestepped the politically explosive debate over whether federal drug laws trump the use of legalized "medical marijuana."
Monday's decision leaves unclear how local districts must comply if a state law, passed by referendum, allowing the limited use of medical marijuana conflicts with the federal government's tough anti-narcotic stance.
The justices rejected appeals from two California counties that have balked at accommodating Proposition 213, which legalized cannabis for pain-suffering patients with a prescription.
At issue is whether the federal Controlled Substances Act, which prohibits pot possession for any purpose, supersedes state medical laws when it comes to enforcement and liability for local districts. A California appeals court found that federal oversight was limited since it was designed "to combat recreational drug use, not to regulate a state's medical practices."
If the Supreme Court decides to tackle the issue, observers believe that the justices will insist that the Obama administration weigh in with its views of the state-federal tug-of-war.
E-mail to a friend

All About U.S. Supreme Court • Lilly Ledbetter