Editor's note: CNN affiliates report on where job seekers are finding work across the country and how those looking for employment are coping with the situation.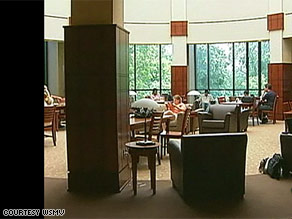 Tennessee's Williamson County Public Library in Franklin is trying to improve computer skills of older job seekers.
(CNN) -- An Ohio company transforming its business model will build its headquarters in the town of Greenville.
LAH Development will become a wind turbine manufacturer and installer after years of constructing commercial buildings.
The company's new building is expected to cost $1 million, CNN affiliate WHIO-TV in Dayton reported. The state of Ohio has granted the company a tax credit of almost $400,000 to help create jobs. The company expects to hire 100 new employees. iReport.com: Share your job hunt story
Under an agreement with the state, the company is required to operate at the new site for 12 years. Read the full report on WHIO
Northeast: Grant money used to train veterans
Pennsylvania is providing $311,000 to train 80 unemployed veterans in the field of welding.
The state's Department of Labor and Industry grant will be used to train the former military members for 96 hours in beginner welding over an eight-week period.
Don't Miss
"As more troops return home after tours of duty, it's important that we provide tools and resources to help them reintegrate into civilian life," Allegheny County Executive Dan Onorato told WPXI-TV in Pittsburgh. Read the full report on WPXI
South: Library to teach computer skills to job seekers
In Franklin, Tennessee, the county library is trying to help older job seekers by expanding its computer course offerings.
Teachers will instruct students on how to use social networking sites such as Facebook and LinkedIn to search for jobs as well as make sure they have basic skills.
"If you don't know those skills and you can't use them readily, it makes everything else so much harder," said Janice Keck, director of the Williamson County Public Library, told WSMV-TV in Nashville, Tennessee. Read the full report on WSMV
Midwest: Indiana business to add 125 positions
An Indianapolis, Indiana, life science firm is more than doubling the size of its staff.
Biostorage provides biomaterials storage and distribution for companies around the world, according to WTHR-TV in Indianapolis.
"Ninety percent of our clients are actually outside Indiana," John Mills of Biostorage Technologies told the station. "So we are earning Indiana dollars from companies outside Indiana."
The current staff has 70 people; Biostorage plans to add 125 more employees. Read the full report on WTHR
Around the nation
Quintiles Transnational Corp. is moving its world headquarters to the Research Triangle Park near Raleigh, North Carolina, News 14 Carolina reports.
A new Wal-Mart in Owasso, Oklahoma, is expected to hire 100 people, Tulsa's KOTV-TV reports.
E-mail to a friend

All About Unemployment Rate • Job Searching