From Jason Kessler and Laurie Segall
CNN





(CNN) -- In the end, a coffee shop in Vassalboro, Maine, that gained national attention for its topless waiters and waitresses simply proved too hot -- the Grand View Topless Coffee Shop burned to the ground early Wednesday morning.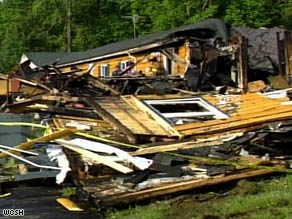 The building of the topless coffee shop was completely destroyed by a fire Wednesday morning.
A state fire official said it was arson.
The blaze consumed the risque, small-town business shortly after midnight, said Vassalboro Fire Chief Eric Rowe. He described the flames as "severe" and said the building was a "total loss."
"I really liked it here," waitress Krista Macentyre said after learning the cause of the fire. "We weren't hurting anyone. I don't know why someone would do something like this."
The shop's proprietor, Donald Crabtree, said he is determined to rebuild. "This is home" to a lot of people, he said.
For Crabtree the coffee shop literally was home. He and his two daughters, their two boyfriends, and his two infant grandchildren lived in quarters attached to the Grand View. The fire forced them to relocate to a motel.
Stephen McCausland, spokesman for the Maine Department of Public Safety, called it arson and said "evidence has been taken to the state police crime for lab analysis."
An ambulance crew returning to Belfast, Maine, noticed the fire around 1 a.m., waking Crabtree and six others, including two 4-month-old infants, according to McCausland.
Crabtree said he did not have insurance for the Grand View. If necessary, he said, he would be willing to reopen in a temporary mobile trailer on the site of the topless -- and now roofless -- coffee shop.
Crabtree said his 10 female and three male employees are "in shock."
While some Vassalboro residents expressed displeasure with the 18-and-over establishment, Crabtree said he had received no threats.
In a February interview with CNN shortly after Grand View opened, Crabtree said the coffee shop was doing brisk business in the small town of 4,500. "It's just been crowds mobbing in," he said at the time.
"This place was made to put smiles on people's faces," he said Wednesday.
Waitress Macentyre added, "This was a good innocent business."
"Every worker was just trying to take care of themselves and make a living -- just trying to live like everybody else," she said.
E-mail to a friend

All About Maine