Editor's note: CNN affiliates report on where job seekers are finding work across the country and how those looking for employment are coping with the situation.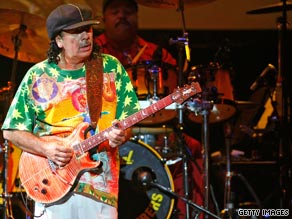 Carlos Santana plays a May concert at the Hard Rock Hotel and Casino in Las Vegas, Nevada.
(CNN) -- The expanded Hard Rock Hotel and Casino in Las Vegas, Nevada, has begun adding staff and plans to hire 800 more personnel as construction projects continue.
Already, 400 people have been added during the major expansion.
The hotel will hold job fairs throughout the summer, KLAS-TV in Las Vegas reported.
Besides hiring dealers, the company also will hire hotel staff. Read the full report on KLAS
Part of the renovation included the construction of a 4,000-seat theater, where artists such as guitarist Carlos Santana will play 36 concerts a year.
Las Vegas has been hard hit by the recession. In April, the unemployment rate in Nevada was 10.6 percent, just below the state's record level of unemployment (10.7 percent) in December 1983. The April jobs report did say that for the first time in several months the unemployment figure for the month in the casino industry remained unchanged, ending a series of steady increases. iReport.com: Share your job hunt story
Don't Miss
The city also topped the nation in home foreclosures in the first quarter of 2009, according to RealtyTrac. The rate of foreclosure filings was 4.5 percent, seven times the national average.
South: NCR to hire 2,000 in Georgia
NCR Corp. is relocating its Dayton, Ohio, headquarters to Georgia.
The company, which makes ATMs and other financial terminals, will expand its operations in the Atlanta suburb of Duluth, Georgia, bringing 1,250 jobs there. It also will hire 870 people for a new manufacturing plant in Columbus, about 100 miles southwest of Atlanta.
NCR employees in Dayton told WLWT-TV that they were told they would not be offered a transfer if they spoke to the media.
The Cincinnati station reported that the state of Ohio offered the company $31 million in grants and tax incentives to stay.
"The decision to consolidate functions in Georgia and build a technology-focused corporate headquarters campus is right in line with our business strategy to drive growth, improve our innovation output, increase productivity and continually upgrade our focus on the customer," CEO Bill Nuti said, according to a news release. Read the full report on WLWT
South: Web site aims to help moms find jobs
Spring, Texas, resident Laura Spencer Pyle is trying to connect moms with businesses looking to hire.
Her Web site, HireMyMom.com, grew out of her job search a few years ago and has blossomed into a networking site for mothers across the nation.
The site charges a membership fee of $30 for job seekers while employers can submit job listings for free.
Users will get a daily e-mail with new job listings, according to KHOU-TV in Houston. Read the full report on KHOU
Northeast: Summer program to create green summer jobs
Officials in Allegheny County, Pennsylvania, are using a grant from the Workforce Investment Act to put 600 people to work for part of the summer.
The $1.87 million will be used for landscaping, gardening, conservation and other environmental projects. The program is aimed at disadvantaged people between the ages of 14 and 24. Applicants should live in the county but not inside the Pittsburgh city limits. Read the full report on WTAE-TV in Pittsburgh
Midwest: Sporting goods store gets huge response at Iowa job fair
Officials at a job fair for the new Bass Pro Shops in Altoona, Iowa, saw so many job seekers show up that they opened the doors an hour early.
The company is hiring at least 275 workers, and more than 1,000 people showed up at the event.
"We're expecting a lot of people," store manager Brian Hudson told KCCI-TV in Des Moines. "We're looking for people that enjoy the outdoors. You're into hunting, fishing and conservation. That's what we're looking for. We want to meet everyone in the community."
Paul Stark, who had just retired after 33 years at 3M, said he wanted to work around hunting and fishing gear.
"I'd get in there and be like a kid in a candy store, think it'll be fun," he said. Read the full report on KCCI
South: Wal-Mart remodeling means 100 jobs
A 227,000-square-foot Wal-Mart in Brandon, Florida, is undergoing a top-to-bottom remodeling. Company officials said the changes will mean 100 jobs.
Those new positions could lead to full-time jobs, according to WTSP-TV in St. Petersburg.
Store manager Sean Riley told the station that the idea was to make grocery shopping easier at the store. Read the full report on WTSP
Around the nation
Chico's, a women's fashion retailer, is hiring for 189 people for a distribution center in Winder, Georgia, reported WXIA-TV in Atlanta.
Furniture maker Ethan Allen is moving jobs from California to its Maiden, North Carolina, facility and will hire 302 new employees, reported WCNC-TV in Charlotte.
E-mail to a friend

All About Unemployment Rate • Job Searching