(CNN) -- The mayor of New Orleans, Louisiana, has been quarantined in China after possible exposure to the H1N1 virus, his office said Sunday.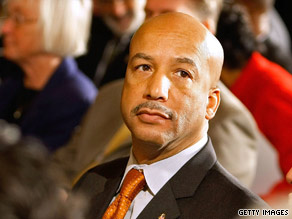 New Orleans Mayor Ray Nagin flew to China as part of an economic development trip, his office said.
Mayor Ray Nagin, who traveled to China on an economic development trip, flew on a plane that carried a passenger being treated for symptoms suspected to be from the virus, commonly known as the swine flu virus, the mayor's office said in a statement.
Nagin, his wife and a member of his security detail have been quarantined in Shanghai, China, though all three are symptom free, the statement said.
"The mayor is being treated with utmost courtesy by Chinese officials," the statement said.
Ceeon Quiett, the mayor's director of communications, told CNN that Nagin had been sitting beside a passenger who "exhibited the symptoms of H1N1," but Nagin showed no signs of illness.

"We have talked with him and he is in good spirits," Quiett said, adding that there was no indication how long the quarantine would last.
While not confirming identities, the Shanghai Municipal Center for Disease Control and Prevention said three Americans are being quarantined in a hotel called the Jinjiang Inn in the Nanhui district of Shanghai.

E-mail to a friend

All About Ray Nagin • New Orleans • Swine Flu • Shanghai