By Paul Caron
CNN





In our Behind the Scenes series, CNN correspondents and producers share their experiences in covering news and analyze the stories behind the events. CNN's Paul Caron was born in Detroit and is a lifelong hockey fan. He still has family members working in Michigan's auto industry.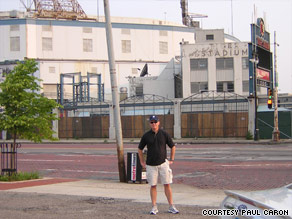 CNN's Paul Caron stands outside Detroit's Tiger Stadium, before the bulldozers arrived in earnest.
(CNN) -- It's been another rough week for the Motor City, in a year filled with them.
There was more fallout from the auto industry's meltdown with Chrysler re-organizing, dealerships closing, more news of another GM plant closing down, and Wayne County officials announcing another 500 county jobs need to be cut due to the economy.
There was a funeral held for a 5-year-old girl who had been missing for weeks before being found dead in a river south of the city. And old Tiger Stadium, a symbol of better times, had its fate finally decided as a judge ruled the entire stadium should be razed. The current half-bulldozed stadium was becoming an image of the city's hard times and its inability to move on to the future.
And the beloved hockey team missed an opportunity to clinch its championship, losing Game 6 in Pittsburgh and bringing on Game 7 Friday at Joe Louis Arena.
"We're not the only city suffering, we know that. But this one, this year, would really be special to us," Megan Dieringer, manager of Cheli's Chili Bar, says about the prospect of the Detroit Red Wings winning the Stanley Cup in Game 7 Friday night. Her bar is across the street from the Detroit Tigers' Comerica Park and owned by Detroit Red Wing Chris Chelios.
Yes, my hometown has been spoiled by hockey success, winning the Stanley Cup four times in the past 11 years, but is there any city more deserving, especially now? The city of Detroit's unemployment rate is around 23 percent, with a ripple effect across the state with the highest unemployment rate in the country near 13 percent.
Folks there realize, another hockey championship doesn't bring back jobs, but "it helps people let their hair down a bit even if it's only for a short while," Dieringer says. "But it's those moments that can help get you through some of the tough times."
Her bar is preparing for standing-room-only crowds on its three indoor floors, and they are putting up a tent to handle the overflow crowd outdoors.
Even with a central location in downtown Detroit, across the street from Comerica Park, Cheli's bar needs a game like this, too, to help fill the seats and cash registers.
"On non-event days, you might as well not even open the doors. The 'off' days are really off for us," she says.
They are feeling the pain across the street, too. The Tigers are currently in first place, which usually guarantees big home game crowds, but not this year so far. The Detroit Free Press reported this week that the Tigers, despite leading their division since early May, are averaging 10,086 fewer fans than last season, the biggest drop in the American League.
Detroiters are familiar with overcoming obstacles, and for some, there will still be a few to overcome on Game 7 night. Friday is when the once-delayed transition to digital television occurs, and the local NBC station that will broadcast Friday's game will no longer transmit an analog signal after 9 a.m. Those without the conversion will have to scramble to find the game (psst -- Detroiters, try to tune into the Canadians' local Windsor television station, which is Channel 9, locally, for the CBC telecast of the game).
There wasn't much love from NBC on another matter. The network wouldn't allow Joe Louis Arena to host an outdoor audience to watch Game 7 on a big screen TV, fearing it would hurt their local ratings (even though this was allowed in Pittsburgh, outside their arena, but those games were broadcast by Versus, the NHL's cable TV partner).
But come game time, Detroiters will forget all that, and come together and focus on their team bringing home Lord Stanley's Cup again, already winners of 11 Cups overall, the most of any U.S.-based team. This city wants a parade next week, and not one for runner-ups.
"Last year, Chris (Chelios) brought the Cup here, and the fans got to touch it, drink from it, for a week. With the economy and all, and this maybe his last year as a Red Wing, we're pulling for the Wings like never before, we all need a boost," says Cheli's bar manager Dieringer.
But one memo to my hometown. If the Wings are winning late in the game, the Joe Louis Arena crowd will sing along to the '70s rock band Journey's "Don't Stop Believing," and everyone will chime in during this part: "... born and raised in South Detroit." The only problem with that is, south of Detroit is Windsor, Canada.
But Wing fans will still sing it as if it all makes sense. And if Detroit wins, the city and the state will happily chime in, not caring where South Detroit is, but happy that the Stanley Cup stayed in "Hockeytown," a good distraction for all else going on there.
E-mail to a friend