From Mike Mount
CNN Senior Pentagon Producer





WASHINGTON (CNN) -- The U.S. military is responsible for civilian deaths during a firefight with Taliban militia in May in western Afghanistan, the nation's highest ranking military officer said Thursday.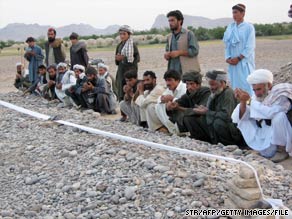 Villagers pray at a mass grave in early May after an airstrike in Afghanistan's Farah Province.
Adm. Michael Mullen, chairman of the Joint Chiefs of Staff, said U.S. troops in Farah province were responsible for the deaths of the civilians, who were killed when air support called in by the troops hit a compound where both civilian and Taliban fighters were sheltered.
He said it may be impossible to ever know how many were killed. He said he doubts, however, the Afghanistan government's number of about 140 deaths.
Mullen did not give an estimate, but the U.S. military previously said it believed dozens were killed.
"I've looked at the investigation, there are some estimates. ... I don't think we ever will really know how many," Mullen said as he and Defense Secretary Robert Gates briefed reporters at the Pentagon.
"It is worth making the point," Gates said, "that there should be doubt in no one's mind that we will do what is necessary to protect our troops.
"The question is, how do we carry out our operations in a way to minimize the need for the use of close air support?"
This was the first public discussion of the incident since the firefight, which began when Afghan and U.S. forces were attacked by Taliban fighters. A report on the events was promised immediately by U.S. Central Command chief Gen. David Petraeus, but it has been mired in bureaucratic infighting on how to publicly address the situation and concerns about how it would be received by Afghanistan's population, according to Defense officials.
"This is the first major situation where there were potentially a number of civilian casualties since the new administration came into office," Gates said. "... [What] we've been trying to do is to give our colleagues in the interagency the opportunity to become familiar with this report, and then go ahead and release it."
He said the report will be released "in the next day or two."
Mullen said the report will show there are a number of challenges, including some training issues, that have to be addressed. He would not go into detail.
Questioned about disciplinary action possibly being taken against troops involved in the fight, Mullen was adamant the U.S. troops will be cleared.
"I found nothing that would lead me to take any specific action along the lines of what you're asking," he said.
The battle "was very intense" and was "handled very well by the young captain on the ground, who essentially was in charge of it," according to Mullen.
The battle occurred in the remote western province on May 4. As Taliban troops continued to mass after hours of fighting, U.S. troops called in the airstrike, according to defense officials. A U.S. Air Force B-1 bomber dropped a 2,000-pound bomb on the compound, ending the firefight.
Mullen said he does not expect the incident will lead to the end of airstrikes in Afghanistan.
"There have been suggestions that close air support would be somehow in jeopardy, in terms of using that capability. I just don't see that," Mullen said. "It's got to be used very carefully so it meets the standard that the secretary just described."
Asked if he thought the air units involved in the fight were sufficiently sure of their target and that civilians would not be injured when they released their ordinance, he said "yes." Questioned again if he thought excessive force was used against the compound in this case, he said, "I won't go into that."
Past U.S. airstrikes against Taliban forces have killed numerous civilians, angering Afghans -- including Afghan President Hamid Karzai -- and straining the relationship between the two countries.
Gates said he does not think the battle for civilian hearts and minds in Afghanistan is lost, but there is work to be done. He said the United States realizes that in the case of civilian casualties, the military must apologize and make amends as soon as possible, rather than waiting for a full investigation before discussing the matter at all.
The United States has tried to put policies in place that put "more emphasis on doing the expression of regret and making amends, if necessary, and then carrying out the investigation," he said.
"I think what we do in the immediate aftermath of one of these tragedies is what's important," Gates said.
Mullen added, "The whole area of civilian casualties is something that [Lt. Gen. Stanley McChrystal, the new U.S. commander in Afghanistan] has made very clear he's going to review very quickly while he's there."
E-mail to a friend

All About Afghanistan • Robert Gates • Michael Mullen