From Michelle Gomes and Meghan Dunn
CNN





NEW YORK (CNN) -- The British are coming, the British are coming -- to Brooklyn? By subway?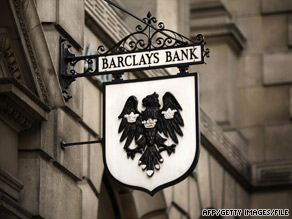 Barclays has paid $300 million for the naming rights to the New Jersey Nets arena.
New York's struggling Metropolitan Transportation Authority has sold the naming rights to the second-busiest subway stop in Brooklyn. The Atlantic Avenue-Pacific Street Station will now have the name of a British bank, Barclays, added to it.
Several subway riders are outraged that Barclays has purchased the naming rights to this subway stop, which sees about 10 million people go through it each day.
One straphanger said, "A London Bank shouldn't be the name of this train station; it's something that belongs to the public domain."
Another said, "It's just everywhere we go, everything we do, it's just branding, branding, branding. It's America now."
Renaming the Atlantic-Pacific Station is tied to the construction of Barclays Center, the new sports arena for the National Basketball Association's New Jersey Nets.
Barclays is paying developer Forest City Ratner $300 million for naming rights to this arena. Ratner, in a separate deal, will be paying the Metropolitan Transportation Authority $200,000 a year for the next 20 years to rename this commuter hub.
Authority Press Secretary Jeremy Soffin said, "Like transit systems all over the U.S. and around the world, we are facing budget deficits."
In an effort to bridge the authority's $1 billion deficit, the transit giant that oversees the operation of the city's subways, buses and rail lines wants to follow the Barclays example with stations throughout the system.
Though the Atlantic-Pacific subway station is the first in New York for which naming rights have been sold, across the country, there have been several cases of public transportation systems using naming rights to increase revenue.
In 2003, the Las Vegas monorail system signed a 12-year, $50 million deal with Nextel to put its name on the station in the Las Vegas Convention Center. The Cleveland Bus System sold station names to two hospitals for $1.1 million a year.
Internationally, Dubai's Roads and Transport Authority has been selling the naming rights of 23 metro stations.
However, not all naming rights deals are successful. In 2001, the Massachusetts Bay Transit Authority tried to raise $22 million by auctioning the naming rights to four historic "T" stations. It received no bids.
Reassuring the public that there are certain lines they won't cross when it comes to renaming stations of historical value, Soffin said, "It's a very clear line there, and we want to be as open as possible, but we're not sort of selling the shop here."
E-mail to a friend

All About Barclays plc • Metropolitan Transportation Authority