By Jessica Ravitz
CNN





(CNN) -- Even if they couldn't be at the Staples Center, Michael Jackson fans across the country gathered to mark the pop sensation's memorial. They packed a diner in Houston, Texas, streamed into a Fort Pierce, Florida, movie theater and amassed beneath a JumboTron in Cincinnati, Ohio.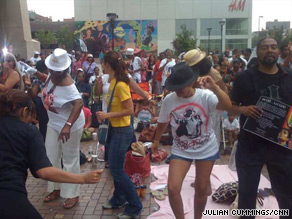 A crowd gathered in Harlem, New York, on Tuesday to celebrate Michael Jackson's life.
Since speculation began that the King of Pop would be memorialized at the Neverland Ranch in the Santa Ynez valley of California, people have flocked there.
Luanne Ferragine, a local resident who was on the grounds early Tuesday, said she wants to be "part of history" and honor the man behind the music she grew up on.
But Ferragine, 52, also believes that by being at Neverland, away from the big event in Los Angeles, she's closer to what matters.
"I believe that he's here, that they brought him Saturday night," she said early Tuesday despite reports that the musician's body would be taken to the Staples Center.
The event in Los Angeles is "a circus," she said. "It's not what Michael would have wanted. I believe it's an empty casket they're taking [to Staples] to please the sheeple."
In Detroit, Michigan, the Charles H. Wright Museum of African American History broadcast the public memorial for free. It did the same for the inauguration of President Obama, CNN affiliate WDIV reported.
Don't Miss
The city, home to the original Motown Records, is where Jackson's career took off, and being around Detroiters for his memorial is exactly what fan Gloria Rios wanted.
"Just the love, the emotions. You can laugh, you can cry, listen to the music, reminisce," she told WDIV.
While students and faculty congregated on the Wolfson Campus of Miami Dade College in downtown Miami, Florida, people took in the memorial around big TVs at a Bennigan's in Gary, Indiana, and peered up at a large screen in the food court at CNN Center in Atlanta, Georgia. Some did so in passing; others sat or stood riveted, with tears in their eyes.
Many fans on the South Side of Chicago, Illinois, lined up to get into the Harold Washington Cultural Center to watch the event, CNN affiliate WGN reported.
"This is a man who spent his life entertaining people," Rick Hughes, 56, told WGN. "It's just sad that there's not going to be any more music."
The memorial was beamed by satellite directly to the screens of 50 movie theaters in places as various as Topeka, Kansas; Missoula, Montana; and Evansville, Indiana.
"We expect every theater to be packed," said Bud Mayo, CEO of Cinedigm, the digital cinema company that made the live broadcasts possible.
The free and first-come, first-served event, he said, was "our gift to the Jackson family and to the industry. What you will see in the movie theaters is exactly what you'd see at the Nokia Theater" in Los Angeles. "No commercials, no voiceovers."
But as CNN affiliate WTOC in Savannah, Georgia, found, almost no one showed up at a screening there. The crew broke down its equipment and moved on.
And in Los Angeles, the broadcast at Mann Chinese 6 was cancelled because of security concerns from the Los Angeles Police Department, a Cinedigm representative explained.
Fans wearing purple armbands gathered at Kent State University in Ohio to watch the memorial service and planned to come together again later for a candlelight vigil, CNN affiliate WEWS reported.
In the Raleigh Convention Center in North Carolina, attendees were treated to a simulcast from Los Angeles and heard testimonials from local fans, prayers from clergy and musical tributes from the likes of the Martin Luther King Jr. All-Children's Choir.
Jackson "gave back so much; more than folks even know," event organizer Jocelyn Williams told CNN affiliate News14. "It's just one of those things you grew up with; he was a part of your life. And you just want to be able to give a tribute back and let the community be able to come together and do that as well."
Fans from around the globe gathered at 125th Street in Harlem, New York, up the block from the famous Apollo Theater and outside an office building where the memorial was to be broadcast. iReport.com: Fans gather in Times Square
They danced to Jackson music, snatched up Jackson-themed merchandise, flashed memorabilia and shared their thoughts on memorial posters. When rain began to fall, they stood unfazed, umbrellas raised.
Cocoa Mitchell, 52, said she missed work to attend the event in Harlem, where she was born.
"I am here today to pay tribute to Michael Jackson. I was at the Apollo when he first opened for James Brown in 1969 at amateur night," she said.
"When I was younger, I wanted to marry Michael Jackson. He was my husband!"
E-mail to a friend

CNN's Julian Cummings and Sara Weisfeldt contributed to this story.
All About Michael Jackson