By Emanuella Grinberg
CNN





Editor's Note: This is the first in a five-part series exploring Judge Sonia Sotomayor's background and life with those who know her, and revealing the experiences that might shape her views as a Supreme Court justice if confirmed.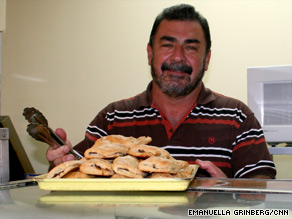 Sonia Sotomayor's cousin, Jose "Tito" Baez, says people stop him in the street to ask about his cousin.
MAYAGUEZ, Puerto Rico (CNN) -- Supreme Court nominee Sonia Sotomayor may not have been born in Puerto Rico, but friends and relatives say she is Puerto Rican through and through.
Her roots go back to the southwestern town of Lajas, a sleepy "pueblito" known as a gateway to the island's picturesque Caribbean coast, where Sotomayor's mother was born in 1927. They extend to nearby Mayaguez, a small city on the coast where many of Sotomayor's relatives live today.
"They grew up in an era of great poverty," Sotomayor's cousin, Jose "Tito" Baez Gonzalez, said of his and Sotomayor's parents. "Their lives were filled with struggles."
New York-born Sotomayor is the first Hispanic to be nominated to the Supreme Court. Friends and relatives credit some of her success to a working-class ethic inherited from her parents, who left Puerto Rico in search of a brighter future.
The impoverished Puerto Rico that Sotomayor's parents knew in the 1930s was vastly different from the mostly-Americanized island of today.
But in many ways the struggles of Sotomayor's parents, particularly her mother, Celina Baez, mirror her own.

Watch cousin Tito Baez and friends say how humility and love of food mark Sotomayor »
Sotomayor's Life
Monday:
New York-born but strong Puerto Rico roots
Tuesday: Schoolgirl with rumpled uniform but passionate views
Wednesday: Princeton unnerves freshman Sotomayor
Thursday: TAB and cigarettes fuel young prosecutor
Friday: Questions, questions and long hours as judge
In Depth: Sotomayor Hearings
When Celina Baez was 9, her mother died and her father abandoned the family, leaving her to be raised by her eldest sister and brother. The young Celina Baez soon showed the fortitude and strong will that relatives say also characterize her daughter.
Sotomayor has said that the few happy childhood memories her mother has shared involved education. Each day Celina Baez would run home from school to teach imaginary friends before doing the chores -- and an emphasis on schooling was something she passed on.
Like many Puerto Ricans from her era, Celina Baez headed for the mainland at 17, joining the Women's Army Corps in Georgia. She eventually settled in the Bronx, where she married Sotomayor's father, Juan -- a transplant from San Juan's Santurce neighborhood with a third-grade education, who did not speak English. They had two children: Sonia and her brother, also named Juan.
Sotomayor's father died when she was 9, leaving her mother to juggle two jobs and borrow money to get her nursing degree. Both parents and their histories had a powerful impact on Sotomayor, according to Emmalind Garcia, an appellate court judge in Puerto Rico who became close to Sotomayor after they met in San Juan about 15 years ago.
"When you have a parent who struggles because he can't speak the language, or maybe he doesn't have a lot of education, it makes you work harder to prove yourself," Garcia said. "But Dona Celina also set the example for her children that education was the best way to elevate yourself from poverty."
Relatives in Mayaguez used many of the same words to describe mother and daughter: humble, simple, caring and courageous. They spoke admiringly of their continued fluency in Spanish and their love for typical Puerto Rican dishes like rice and beans and "mofongo," a dish of mashed plantains and spices.

Watch friends describe what the nomination means to them as Puerto Ricans »
"The values of Puerto Ricans are centered normally on just one thing -- the family," said Tito Baez, who runs the family bakery in the Manatiales neighborhood.
"Although her values are very North American, naturally, because she was born and raised there, I believe her roots are pure Puerto Rican," he said. "She has loved us with the same support as if she were born here and lived here with us."
His sister, Leonor Baez Santana, remembered summers playing jacks and other games with her cousin in her mother's home.
"My aunt sent her here to Puerto Rico to be with us and she behaved very well," she recalled.
As an adult, Sotomayor would make time to go to Mayaguez, a city of 100,000 known for its mango trees and brewery, whenever she was on the island, her cousins said.
The two-hour drive from San Juan is flanked by suburban sprawl, from McDonald's and Walgreens to Walmart and Pep Boys.
Mayaguez itself has the framework of a Spanish colonial town with modern touches. At the center is the tree-lined Plaza de Colon, where residents meet in the shadow of a water fountain with a statue of Christopher Columbus. Around the square are the Nuestra Senora de la Candelaria Cathedral and City Hall, and small businesses like Subway and Payless Shoes.
Don't Miss
The bakery that Sotomayor's relatives have owned for more than 50 years sits at the foot of hills to the east, amid colorful concrete homes designed to withstand hurricanes.
"Panaderia y Reposteria Tito's Bakery" is a nondescript joint with the markings of a typical New York City corner store: refrigerators stocked with fruit juice and soda, display cases holding sandwiches, fresh baked goods, and pastellitos, or small pastries, stuffed with cheese and ground beef. Next door, the bakery prepares cakes and special orders, and above is a home for more of the Baez family.
The only sign of a connection to their famous relative is a stack of newspapers featuring Sotomayor, piled on a stand next to a video lottery terminal.
"People's reactions were astonishing, the pride that they feel that a Puerto Rican, an adoptive daughter of Mayaguez, has been nominated for this charge," Baez said at his home in the hillside district of Rio Hondo.
"She's not just a part of our family, she belongs to Puerto Rico," said Baez, a burly man in his 50s with a friendly disposition, even as he apologetically declined to provide details about his family's history.
Instead, he took CNN to his favorite place in Mayaguez to pick mangoes, on a road to the Cerro las Mesas hills. The fruit within reach was all gone, so Baez apologized again and moved on to a scenic lookout point.

"Her profession, the space she has now, it has not gone to her head. She doesn't have an ego. She has her feet firmly planted on the ground," Baez said.

See how Sotomayor matches up to the eight Supreme Court justices »
That attitude is a testament to Celina Baez, Sotomayor's friend Garcia believes. "She raised a doctor and a judge. It's an incredible accomplishment for a woman from a poor village in Puerto Rico."
E-mail to a friend

All About Sonia Sotomayor • Puerto Rico