(CNN) -- The off-duty firefighters who rushed into a burning SUV and cut a 4-year-old boy out of the seatbelt saved his life, the boy's doctor said during a press conference Tuesday in Milwaukee, Wisconsin.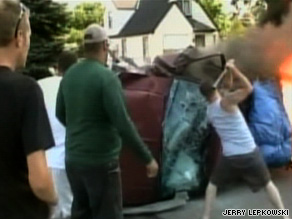 A passerby smashes the windshield of the SUV that crashed and erupted into flames.
The depth of the boy's burns "indicates to me this was a very hot fire, and he was in close contact with it," pediatric surgeon David Gourlay said. "These firefighters were clearly heroic and saved D.J.'s life."
D.J. Harper is in serious but stable condition with second- and third-degree burns on his scalp, face, back and arms, Gourlay said.
But the little boy is expected to make a full recovery thanks to a group of strangers that came to his rescue. The onlookers helped a woman and girl from their fiery SUV before off-duty firefighters cut a seatbelt to free D.J. in a harrowing rescue attempt a neighbor captured on video.

Watch dramatic video of the rescue »
Jason Lepkowski was driving down the street Sunday when a car crashed and erupted in flames. So he parked his car and ran to the vehicle to help.
"It blew up, and I was already smashing on the windshield of the vehicle because I saw the people inside," he told CNN affiliate WTMJ.
His uncle, Jerry Lepkowski who lives down the street, rushed to the scene and started filming.
Neighbors and those in the area frantically began screaming for help. Flames began to fan and tires blew as neighbors struggled to find a way to shatter the windshield and pull the three people to safety.
"We're busting at the window because we saw everybody screaming," Jason Lepkowski told WTMJ. "We made a little hole to get the little baby out first. Then came the mother, then we were smashing out the window. We couldn't break it."
Then they began shouting for help.
That's when neighbors, grabbing anything they could find, approached the car and started hammering the windshield with blunt objects including pipes.
"We're freaking out, and then we get the windshield open," Lepkowski said.
But D.J. was still inside, trapped by a seatbelt and nobody could reach him.
"We could see the kid on fire," Lepkowski said.
Off-duty Milwaukee firefighters John Rechlitz and Joel Rechlitz assisted by off-duty Milwaukee police Lt. Mark Wroblewski raced to the scene.
Without gear, backup from emergency responders or any protection from the fire, the firefighters went inside the burning vehicle to try to free the boy.
"I saw him and I saw my son's face. It was very emotional," Joel Rechlitz told WTMJ.
With the help of a knife from a neighbor they were able to cut the boy free.
On the video John Rechlitz is seen grabbing the boy and running from the vehicle as Joel grabs a hose and begins to douse his entire body.
On Monday, the three off-duty workers were honored for their heroic actions. "We took an oath as firefighters," John Rechlitz told WTMJ. "A duty to act, a willingness to serve, and that's what we were doing. Regardless if we were on duty or off duty."
At a news conference Tuesday at Children's Hospital of Wisconsin, D.J.'s father, James Harper, struggled to contain his emotion as he thanked those who helped save his son.

"I'm sorry, I'm trying to hold it together, but it's my little boy," he said. "I just want to thank everybody, the citizens of Milwaukee, for helping us.
"There are angels all around us."
E-mail to a friend