By Barbara Starr
CNN Pentagon correspondent






WASHINGTON (CNN) -- U.S. forces in Afghanistan have opened a fact-finding investigation into the circumstances surrounding the disappearance of Pfc. Bowe Bergdahl, the soldier in the hands of the Taliban, CNN has learned.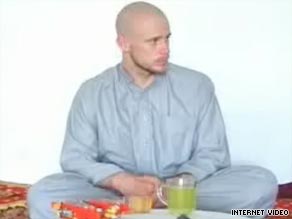 Pfc. Bowe Bergdahl shown here in a video made by his captors, members of the Taliban.
The investigation, informally called an AR 15-6 after the Army regulation that governs such matters, was confirmed by three military officials.
The Defense Department announced Bergdahl disappeared from his combat outpost sometime after he finished his guard duty shift on the night of June 29. Military officials have said he left his weapon behind and appeared to have left voluntarily.
He later appeared in a 28-minute Web video released by the Taliban. It showed Bergdahl looking comfortable and eating. While he expressed concern about not seeing his family and girlfriend again, he appeared to speak calmly and had no visible signs of abuse.
The investigation is being conducted separate from the ongoing search efforts and intelligence-gathering operations aimed at locating Bergdahl. Officials want to determine what happened, and if there are any systemic failures that need to be addressed.
It is being overseen by military legal personnel attached to the 82nd Airborne Division, which oversees U.S. military operations in eastern Afghanistan, where Bergdahl disappeared.
An AR 15-6 investigation is an administrative fact-finding inquiry, but it can result in recommendations that could lead to judicial proceedings under the Uniform Code of Military Justice.

Watch what U.S. is doing to find soldier »
One source confirmed that troops who were at the same base as Bergdahl and local commanders are being questioned about what they know about him and why he may have disappeared. In addition, investigators will also review security procedures at his combat outpost.
It is not clear whether any local commanders could be held responsible for lack of security.
Because all interviews are done under oath, an AR 15-6 investigation is considered a reliable means of gathering facts when an incident occurs.

"It's a useful tool for a commander," said one Army official.
But any final conclusions will depend on hearing directly from Bergdahl about what happened.
E-mail to a friend

All About The Taliban • 82nd Airborne Division • Afghanistan