WASHINGTON (CNN) -- A senior administration official said Henry Louis Gates Jr. and Sgt. James Crowley of the Cambridge, Massachusetts, Police Department will be visiting the White House Thursday.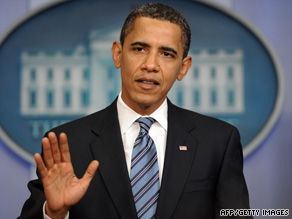 President Obama will meet Thursday with a Harvard professor and the officer who arrested him.
The meeting among the three men will take place at 6 p.m. Thursday.
Last week, Obama said he called Crowley and "there was a discussion about he and I and Professor Gates having a beer here in the White House."
Gibbs said: "I think it was Sgt. Crowley's suggestion about the beer, and I think the president thought it was a good idea."
Obama said he hoped the incident in Cambridge, which quickly spiraled into a national and racially charged controversy, "ends up being what's called a teachable moment" for the country.
The president acknowledged that he had contributed to "ratcheting it up" by declaring the Police Department had "acted stupidly" even though he didn't know all the facts of the case and is a personal friend of Gates.
Cambridge police called on Obama to apologize for the remark. Obama did not apologize, but in the phone call with Crowley he said his choice of words was "unfortunate."
Gates, a top African-American scholar, was arrested July 16 for disorderly conduct outside his home after police responded to a report of a possible burglary. The charge was later dropped.
Don't Miss
Gates called himself the victim of a "rogue" officer. But he said Friday he looks forward to meeting with Obama and Crowley, and to making the experience "a teaching moment to improve racial relations in America."
Crowley said Gates accused him of racism when he was at the home simply trying to do his job and assuring that Gates was safe and alone in the home.
Cambridge police officials have praised Crowley, who in recent years had been selected by a black police officer to teach a police academy course on how to avoid racial profiling. Officials said they take pride in their relationship with the diverse community in the area.
Cambridge Police Commissioner Robert Haas said he "deeply regrets" the arrest, but stands by the procedures his department followed. iReport.com: Share stories, concerns on racial profiling
Meanwhile, authorities in Cambridge announced Monday that they have created a panel to advise police on racial issues.
"Today is the day to move forward," City Manager Robert Healy said at a news conference.

The committee, led by "nationally recognized experts," will not investigate the arrest of Gates, nor will it "make any judgments" on the officers involved, Healy said.
The committee "will identify lessons to be taken from the circumstances surrounding the incident" and will advise the police department on how "those lessons can be applied" to its policies and practices.
E-mail to a friend

CNN's Dan Lothian contributed to this report.
All About Cambridge (Massachusetts)