By Lisa Desjardins
CNN





WASHINGTON (CNN) -- As car dealers start to turn away new Cash for Clunkers customers, a key industry group is urging the government to give them another week to get their paperwork in.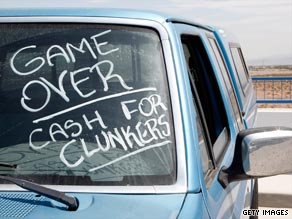 The National Automobile Dealers Association released a statement late Friday insisting problems with the government's computer application system could mean legitimate "clunker" deals can't be submitted on time.
"This later deadline for submissions would help avoid computer slowdowns due to overwhelming demand," the statement read. The organization wrote that a data deadline of August 31 would give dealers more flexibility and allow some dealers to keep up the program through Monday night.
The National Highway Transportation Safety Administration set an 8 p.m. ET Monday deadline for dealers to submit invoices and documents for the program, which is worth $3,500 or $4,500 per vehicle.
Some dealers say the submissions process is so time-consuming that they had to shut their doors to the program and focus on getting their paperwork done.
"We stopped Cash for Clunkers [Thursday]," said Michelle Primm, managing partner at the Cascade Auto Group in Cuyahoga Falls, Ohio. "It's just too risky to take more customers at this point."
She estimates each Cash for Clunkers deal takes between one and seven hours to enter into the Web site set up by NHTSA. Invoices require pages of information beyond the customer's address and the cars' Vehicle Identification Numbers (or VIN).
"Depending on the customer, you scan in 15-20 documents," Primm said, "You scan them as PDF files, attach them to the invoice and then, after that, you hit the submit button and many times, the system freezes and you have to redo the process."
Primm said she and other dealers across the country couldn't even log onto the Cash for Clunkers or CARS Web site Friday night and she suspected the entire system was down due to volume.

Watch the "Breakdown" on the Cash for Clunkers program »
Repeated calls by CNN Radio on Friday to the NHTSA to check on the Web site's status were not returned. One assistant took several messages and admitted that media relations staff members were flooded with questions.
Primm is an at-large member of NADA's board of directors, and echoes the organization in questioning Monday's deadline. "If the site stays down much longer, they'll have to extend it," she said.
She and other dealers describe long hours spent on the Web site.
"My office manager got up at 4 a.m. to get in our invoices," Primm said. There was less traffic on the Web site at that early hour, she said, and for a few glorious hours the dealership could file a steady stream of invoices.

Primm sells about 1,000 cars a year and estimates Cash for Clunkers has netted 35 sales she wouldn't have seen otherwise. But the process to submit the deals has soaked up massive amounts of overtime pay, she said.
"We have definitely sold more cars than we would have," she told CNN, "but the administrative cost may have eaten up the additional profit."
E-mail to a friend

All About Automobile Sales