By Christina Zdanowicz
CNN





(CNN) -- Stepping into a Chicago, Illinois, classroom, Enoch Muhammad cranks up the stereo and Tupac's "Brenda's Got a Baby" blares into the students' ears.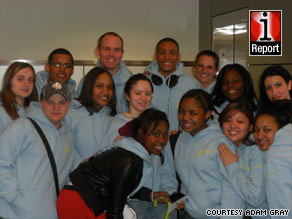 Teacher Adam Gray took members of Mu Alpha Theta to Washington as a reward for their hard work.
He asks the grade-schoolers to listen hard and break down the meaning of each line. The rapper is about to teach them a skill they can use over and over again.
Muhammad harnesses popular music to teach kids to be critical thinkers and break down the problems they're dealing with in their lives. His program, Hip-Hop Detoxx, helps youngsters take responsibility and in many cases, steers them away from violence.
When kids come to school, their minds are elsewhere and they can't focus, Muhammad says. From committing crimes to dealing with a bad home life, thinking about history or biology just doesn't rank.

See details about K-12 schools, teachers »
Patte Barth, director of Center for Public Education, says a lot of these problems start at home.
"There's not a lot of family time when parents are working two or three jobs. It's hard to find a quiet place for homework and get reinforcement at home. The schools have to think about that and be mindful and find ways to provide that extra support."
A 2005 study comparing urban and suburban on-time graduation rates reveals 70.6 percent of students nationally graduate within four years, according to America's Promise Alliance.
However, the average graduation rate for the 50 largest cities is only 52.8 percent.
Poverty levels tend to be higher in urban districts, Barth said. The performance of low-income students lags behind their more affluent classmates.
"There are many more challenges in urban districts, but they are challenges that can be met," Barth added.
In today's economic climate, teachers and community members around the country are making do with what they've got, and they are making small innovations to fix local problems. In a school system where underprivileged kids are falling short, individuals are proving one person can make a difference.
And making a difference is exactly what Muhammad's hip-hop programs have done for kids across Chicagoland. Muhammad's "detoxes" at school assemblies can reach a couple thousand students at a time. He estimates he's reached 30,000 to 40,000 students since he began the program 16 years ago. iReport.com: Hip-Hop Detoxx reaches out to keep the peace
Lisa Coleman is a proud mom who's seen her three daughters blossom as a result of the program.
"I really give hands up to Hip-Hop Detoxx when it comes to my girls because it changed them a lot. They were good girls. They had so much talent, but he brought the talent out in every last one of them," she said.
Don't Miss
Her eldest daughter, Candace, says the program changed each of their career goals, enabling the siblings to think bigger. Candace, 23, discovered that she could marry her passions for the music industry and helping people via the program.
From Candace's involvement, younger sisters Racquel Shade, 18, and Ebony Shade, 17, joined the group while they were in high school on the South Side of Chicago.
Racquel's shyness used to make her "sound like Tweety Bird," says her mom. But, after Muhammad taught the 18-year-old how to speak in public, her poetry sang. "It just brings me to tears when at the shows she speaks her poetry," Coleman said. And, when Ebony hits the stage, Coleman says she's like a different person.
While breaking down beats has helped these sisters, iReporter Adam Gray has been changing lives one math problem at a time.
Gray teaches geometry at a Boston, Massachusetts, high school where only 44 percent of the class graduates. While many of the kids pass state exit exams, they flunk their classes.
This inconsistency frustrated Gray, 26, so much that he wasn't sure he'd return after his first year as a teacher. But, thinking back to his years in high school, he remembered the math-friendly haven, Mu Alpha Theta, a math honor society for junior and seniors with a 3.0 GPA or higher. Out of the 200 or so juniors and seniors at Monument High School, only 11 had the grades to make the cut.
"Unfortunately in urban schools, we all too often focus on students that are not putting out than those that trying to maximize their potential," Gray said. "In the two years I had been at Monument, we had not once formally recognized students that were achieving at high levels at all times. This, I realized, had to change."
Change came when he founded Boston Public School's first chapter of Mu Alpha Theta in 2008. The honor society was an opportunity to give these kids, who are "pretty timid and trumped by gangster-wannabees," a voice that they never had, Gray said. They went from sitting silently in class to feeling comfortable speaking up.
Liliana Eden describes Mu Alpha Theta as being another family. While the senior did well in math her freshman year, family problems caused her grades to slip her sophomore year, she said.
"Mr. Gray was there to tell me, 'Whatever you have going on at home, put that away,' " she said. He told her to focus on school instead.
"That's how my grades went back up. He was the only teacher that stood by me through thick and thin."
The secret is getting the kids to believe in themselves; meanwhile, their grades are soaring into the A's and B's, he said. iReport.com: What Mu Alpha Theta means to me
As a reward for making top grades, Gray and a former colleague took the 11 students on an educational trip to Washington.
When the students of Mu Alpha Theta rolled into the school with their suitcases, the student population wanted to know whether they could go on the trip, too.
A whirlwind trip of visiting historic monuments and seeing a college campus proved to be the ultimate treat for the group.

The positive buzz around school made Mu Alpha Theta a cool club to be a part of. Gray is ecstatic with the group's growth, which has yielded 17 new members this school year.
The group has only existed for a year, so it's too early to draw a correlation between membership in Mu Alpha Theta and college enrollment. Out of the six graduating seniors from the group, five are going to college and one joined the Navy, he said.

E-mail to a friend