From John Couwels
CNN





(CNN) -- A Florida law enforcement report has found no credible evidence that a teenager's father threatened to kill her for converting from Islam to Christianity.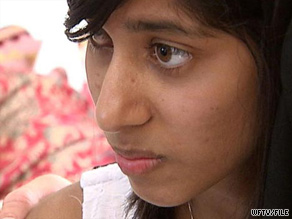 Rifqa Bary, 17, says a mosque told her family to "deal with the situation" of her Christian conversion.
The 17-year-old girl, Rifqa Bary, ran away from her family in Columbus, Ohio, in July and took refuge in the home of the Rev. Blake Lorenz with the Global Revolution Church in Orlando, Florida. The girl was moved into foster care under the supervision of Florida's Department of Children and Family after she said in a sworn affidavit that her Muslim father threatened her.
An investigative report by the Florida Department of Law Enforcement was released Monday after a juvenile court seal order expired.
"Our investigation has provided no clear evidence of criminal activity," said the state report.
Investigators stated they could not find any evidence to support a history of abuse. A teacher at the girl's high school told investigators she had no reports or evidence of abuse.
The girl had told investigators her father never saw her in her school cheerleading outfit because she feared his disapproval. But investigators stated in the report they saw pictures of the girl in her cheerleading uniform prominently displayed in the living room of the Bary's Ohio home.
The teenager, in a sworn affidavit, said her father, 47, was pressured by the mosque the family attends in Ohio to "deal with the situation."
Don't Miss
In the court filing, Rifqa Bary stated her father said, "If you have this Jesus in your heart, you are dead to me!" The teenager said her father added, "I will kill you!"
The parents, Mohamed and Aysha Bary, denied anyone had threatened their daughter including themselves.
"We wouldn't do her harm," the father said during a court hearing earlier this month, adding that he knew his daughter was involved with Christian organizations.
"I have no problem with her practicing any faith," he said. But Bary conceded he would have preferred that his daughter practice the Muslim faith first.
After she left home, the girl's parents reported her missing to Columbus police, who found her two weeks later in Florida through cell phone records. The teen had heard of Lorenz and his church through a prayer group on the social networking Web site Facebook.
The judge in the case has ordered the family into mediation. A court hearing is scheduled next week to hear arguments including one filed from the parents attorney asking the court to dismiss the case.
E-mail to a friend

All About Christianity • Islam