By Katie Hawkins-Gaar
(CNN)





(CNN) -- Julie Ellerton met Iraq war veteran John Stubbs by chance. He dropped by her Malibu, California, home one afternoon to spray for termites.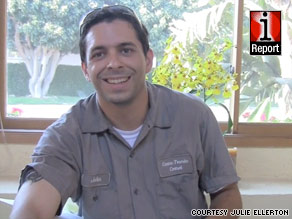 Iraq war veteran John Stubbs, 34, shared his story of returning home after being in combat.
Amid friendly conversation, Ellerton discovered that Stubbs served in the Army and began asking him about life after Iraq. She grabbed her video camera, and the near-strangers talked for a half-hour.
Ellerton was one of several citizen journalists to take the iReport.com challenge to find and interview a veteran about his or her biggest concerns. Ellerton, a frequent contributor to the site, hoped to speak with a veteran but wasn't sure where to meet one.
When Stubbs arrived on her doorstep, she found the ideal subject. "John's voice needed to be heard," Ellerton wrote on iReport.com. "I began to wonder who else is amongst us, as we pass along the streets, in the grocery store, or at our work place, who might also have a similar story."
Other iReporters looked for veterans through Facebook or asked friends for help. They found troops eager to share their stories and grateful to meet a stranger who would listen.
Many veterans told stories about struggles at home that rival their wartime experiences, iReporters say. The interviews served as a small but powerful opportunity to raise awareness about the issues U.S. veterans face.

Listen to four vets under 35 share their stories »
Some of the challenges that greet them upon their return home include recovering from post-traumatic stress disorder and treating wounds received in combat. Simultaneous U.S. wars in Iraq and Afghanistan have challenged the Department of Veterans Affairs' job of providing medical care and other support for the nation's 17.4 million war vets.

See key facts about U.S. vets »
More than 35,000 troops have been wounded in both wars since 2001, and more than 900 troops have suffered wounds requiring amputation, according to the VA. To care for all these wounded vets -- in addition to their comrades in previous wars -- the VA operates 153 medical centers and 768 outpatient clinics nationwide.
"I was aware of the struggles one must face when returning home from the war," Ellerton said. But Stubbs was able to talk "passionately and openly," in a way that captured her attention.
"I was taking in everything he said," Ellerton explained. "His vulnerability, mannerisms, discomforts -- as he spoke of difficult times." iReport.com: Watch Stubbs' interview
Stubbs, 34, described living with PTSD. He avoids fireworks shows, theme parks and large crowds. "I get nervous," he said. "You're just functioning on survival instincts -- looking around, very suspicious."
As a cavalry scout, Stubbs served on the front lines of combat, an experience that left an indelible mental impact. He sees a psychologist at the VA medical center in Long Beach, California, but says he still suffers from flashbacks and painful memories.
"He touched my heart," Ellerton said. "I felt honored that someone so guarded was able to share his inner world with me."
In Kingwood, Texas, software developer Egberto Willies spoke with 34-year-old veteran Paul Rodriguez. Willies met Rodriguez through a mutual friend. The former Navy corpsman happens to live just a few blocks away.
Willies listened to Rodriguez talk for nearly two hours about his time in Iraq, his return home in 2005 and the struggles he faces as a veteran. Rodriguez suffered a brain injury during combat and shared painful stories of adjusting to civilian life.
"I used to be the life of the party," said Rodriguez, who used to freelance as a radio disc jockey. Now, he says, he's more serious and tense in social situations.
Rodriguez shared a particularly touching story about a Thanksgiving that he spent alone in his bedroom, rather than visiting with family.
"You don't know how to interact with people. It's kind of like being a foreigner," he said. "In your own home," added Willies, finishing the thought. iReport.com: Watch as Willies and Rodriguez interact
For Willies, the conversation was so powerful that it "gave me a new cause in life." A longtime supporter of health care reform, Willies is now interested in veterans' benefits as well.
In fact, a week after meeting Rodriguez, the avid iReporter interviewed another veteran at a recent health care rally in Houston, Texas. Missy Rothe, who served in both the Gulf War and war in Iraq, was happy to answer Willies' questions.
After speaking to Rodriguez and Rothe, Willies observed that while former servicemen and women are grateful for government support, "most believe they are taken for granted by employees of the VA or the country as a whole."
"As a country, we are all talk when it comes to honoring and caring for our veterans," Willies said.
iReporter Nancy Mousa was introduced to Monica Johnson, a 25-year-old single mother who spent a year in Afghanistan and says the health care system is at the top of her list of concerns.
"I feel like the VA is doing the best they can with the funding that they have, but if I were to get cancer or injured in some way, I would have no way to pay for it," Johnson said. She does not have medical insurance and says the available policies are too expensive.
Johnson also spoke about how difficult it was to find a job after leaving the Army. Eventually, she decided to enroll as a full-time student at the University of Georgia. She worries about being able to provide for her child and support her sister, who was deployed to Iraq and suffers from PTSD. iReport.com: Listen as Johnson describes her greatest concerns

"I didn't expect to interview a young woman who was so brave and open," Mousa said.
"That is one interview I will never forget," added Mousa, who is pursuing a career in broadcast journalism. "It was a great experience meeting and spending time with her. She inspired me to keep working hard to accomplish my goals."
E-mail to a friend

CNN's Thom Patterson contributed to this report.
All About Iraq War • Afghanistan War • Post-Traumatic Stress Disorder