LOS ANGELES, California (CNN) -- A rapidly moving fire in southwest California injured two firefighters Tuesday as it ripped through the hills and rugged canyons of Ventura County, a fire official told CNN.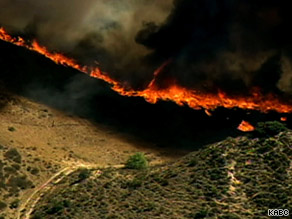 Strong wind, grass and light brush are fueling the Guiberson fire in southwest California.
The firefighters suffered smoke inhalation battling the 6,000-acre blaze, which broke out Tuesday morning between the towns of Fillmore and Moorpark, Bill Nash of the Ventura County Fire Department told CNN.
Lashing flames, propelled by a strong wind, spread at an average of more than 1,200 acres per hour, according to the California Department of Forestry and Fire Protection.
The Guiberson fire, as it was named, was heading toward Moorpark and a more populated area as it neared oil fields and threatened homes, Nash said.
Between 500 and 600 homes were evacuated in the communities of Meridian Hills and Bardsdale, just south of Fillmore, Nash said. South of Moorpark, a senior center in Thousand Oaks was set up as an evacuation center.
As the fire sped south, aerial footage showed the blaze approaching a home.
Oil pipelines connected to pumping rigs in the oil fields could be breached by the fire, which could be disastrous. If that happened, Nash said, workers would cut off the oil flow in the pipes to prevent the fire from spreading through the lines and causing an outburst of flames in another area.
Don't Miss
Nash said he is unsure how many pipelines run below the brush-covered fields.
The Guiberson fire threatens homes, ranches and farmland, among other structures, Nash said. The Ventura County sheriff has called for voluntary evacuations for residents in a rural, unincorporated section of Moorpark where several ranches are also located, he said.

Watch scenes from the fire »
Strong wind, 100-plus degree temperatures and dry grass and light brush are fueling the fire, whose embers are being flung as far as a mile from the flames, fire officials said.
The cause of the fire is still under investigation, according to the Ventura fire department.

A second fire sparked in Riverside County has been 20 percent contained, Capt. Mitch Wesche of the Riverside Fire Department told CNN. That fire burned 100 acres, he said.
Riverside County is southeast of Ventura County.

E-mail to a friend

CNN's Khadijah Rentas and Lynn Lamanivong contributed to this report.
All About California • Wildfires • Oil Production and Refining