By Jessica Ravitz
CNN





CARROLLTON, Georgia (CNN) -- A clanking noise woke Bridgett Crawford after midnight on Monday. She was sleeping on the couch with her 1-year-old son, Cooper, as rain pounded their mobile home off Horsley Mill Road near Snake Creek.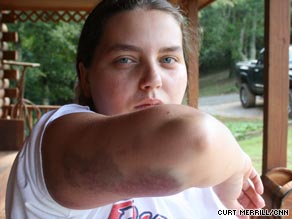 Bridgett Crawford shows one of the many bruises she suffered during her ordeal early Monday morning
Where was this strange sound coming from? Bridgett got up and stepped into the kitchen -- where water covered her feet. Peering outside, she saw one of the family's cars half-submerged.
As Bridgett rushed around the home, her husband, Craig, came out of the bedroom, where he'd fallen asleep with their other son, 2-year-old Preston Slade. They looked in the boys' room. It was flooded.
Bridgett placed a frantic call to Craig's parents, who live just up the hill. "You have to come get us!" she told them. Within two minutes, the young mother and father had thrown clothes on their boys, and they were ready to escape. Bridgett looked outside again and watched as floodwater whisked the car away.
Suddenly, the house shifted. Lifted off its foundation, the 14-by-70-foot trailer began to spin.
"We either stay in here, let the doors close up, and we all drown," she remembered saying to her husband, "or each one of us grabs a baby, we tell them we love them and jump out and fight."
Craig pried open the trailer door. Then Bridgett, holding Cooper, leapt into the water. Craig, clasping Slade, followed.

Watch the parents describe that night »
Craig's parents approached in their truck. "What was a creek [had] turned into a raging river," said his father, J.C. Crawford.
"I watched the mobile home explode."
The force of the water slammed Bridgett into a tree. The 24-year-old mother fought to straddle a branch and wrap her right arm around another one -- the left held the 30-pound boy tight to her. She yelled for Craig, who called back from another tree.
"Where's Slade at?" she hollered.
From the darkness, and above the roar of water and rain, she heard her 26-year-old husband respond: "Baby, I don't know. I lost him."
Flood Safety
He had slipped through his arms after they'd jumped. An 18-foot wall of water hit them both.
Over and over, Bridgett screamed her son's name.
"Slade! Slade!"
The chubby-cheeked boy, also called Scooter, loved SpongeBob, Spiderman popsicles and Harley-Davidson motorcycles. He liked to tattle on his parents when he thought they were bad.
"Slade! Slade!"
Craig's mother, Pat, stood with her husband, paralyzed.
"You can't imagine what I felt, watching my kids down there begging for help, and I couldn't get to them," said the veteran nurse who has spent 30 years assisting others. "I couldn't fix it. I couldn't help them."
The 911 calls poured in that night, sending firefighters and other first responders to desperate scenes across the county. Capt. Tommy Hopson of the Carroll County Fire Department was first to arrive to help the Crawfords. Power lines were down. Fallen trees blocked the way. The bridge over Snake Creek was washed out.
"Everything that could go wrong, went wrong," a still-exhausted Hopson recalled Tuesday.
Don't Miss
In his 23 years with the department, he had never experienced anything like it. Trained in technical rope and swift-water rescues and an experienced member of the dive team, he still could not have imagined how the night would unfold.
With the help of more than a dozen other rescue workers and volunteers, Hopson fought for hours trying to reach the Crawfords. Time and again, men staggering into the water on harnesses and ropes were knocked off their feet.
As the hours passed, Cooper got squirmy in his mother's arms. Bridgett sang to him -- "That 'Hush Little Baby' song," she said -- and gave him soothing kisses. But he was taking in water despite her one-armed efforts to keep him up above it, and when he fell asleep on her chest, she feared he was gone.
Hopson recalled her calling out, saying Cooper was dead. He worried the team's fight had turned from rescue to recovery.
For six hours, Bridgett clung to that tree. Not for herself.
"I wasn't worried for my life. I was worried for my baby's life. After I knew Slade was gone, I didn't care what happened to me."
But when Hopson belayed down from another tree to where Bridgett was perched and took the boy from her, Cooper rolled back his head and looked around.
With that, Hopson said, the mood lifted -- even if only for a bit. Next they plucked Bridgett from the tree. Then Craig from his.
Hopson's work wasn't done. Without knowing where Slade was, he refused to walk away.
Fact Box
The Slade Crawford Memorial Fund
has been established at the First National Bank of Georgia.
Checks should be made payable to The Slade Crawford Memorial Fund. They can be dropped off at any of the bank's branches or sent by mail.
Branch locations and the main mailing address can be found at
http://www.fnbga.com/locations.htm
.
"I just couldn't leave," he said. "I couldn't leave till I knew he was found."
A half-mile away, evidence of the 18-foot torrent that took over the usually serene, 2½ -foot-deep creek remained on Tuesday. A 20-acre hayfield, now flattened, was covered in sand, dead fish and pieces of the Crawfords' home.
A blue bedsheet was wrapped around a utility pole, just feet from the pile of debris where Slade's body was found Monday afternoon. A red T-shirt, still draped over a nearby stone wall, marked where rescuers tried to work on the boy.
The family of James Williams, 54, owns the farm where the boy was found. Over and over his phone rang, as callers in what he described as a "close-knit little country community" asked who was bringing the Crawfords food, when and how a collection would be taken and whether the details of the funeral, scheduled for Thursday, had been finalized.
Before she headed out to select Slade's casket on Tuesday, Bridgett -- covered in purple bruises and scrapes -- sat on her in-laws' porch beside Pat. Craig wasn't around, and J.C. had wandered back inside. They spoke about what happened in the earliest hours of Monday, still struggling to make sense of it all.

Down the slope behind the home were signs of where the trailer once stood: a bent satellite dish, a red Jeep Cherokee smashed against a tree, piles of wood and faucets.
Mixed in was a waterlogged teddy bear, children's clothing and a muddy Tonka truck -- tangled remnants of what once was.
E-mail to a friend