HAMMOND, Louisiana (CNN) -- The actions of a justice of the peace in Louisiana who refused to issue a marriage license to an interracial couple have prompted some top officials, including Gov. Bobby Jindal, to call for his dismissal.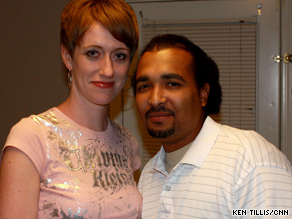 Beth Humphrey and Terence McKay say they were denied a marriage license because of their race.
Jindal said the state judiciary committee should review the incident in which Keith Bardwell, justice of the peace for Tangipahoa Parish's 8th Ward, refused to issue a marriage license to Beth Humphrey, 30, and her boyfriend, Terence McKay, 32, both of Hammond.
"This is a clear violation of constitutional rights and federal and state law. ... Disciplinary action should be taken immediately -- including the revoking of his license," the Republican governor said.
Sen. Mary L. Landrieu, D-Louisiana, said the committee should "use its authority to have Justice Bardwell dismissed from his position."
"Not only does [Bardwell's] decision directly contradict Supreme Court rulings, it is an example of the ugly bigotry that divided our country for too long," she said.

Watch Terence McKay react to the denial of a marriage license »
Bardwell has not returned repeated calls from CNN this week.
However, Bardwell told Hammond's Daily Star in a story published Thursday that he was concerned for the children who might be born of the relationship and that, in his experience, most interracial marriages don't last.
"I'm not a racist," Bardwell told the newspaper. "I do ceremonies for black couples right here in my house. My main concern is for the children."
Bardwell, stressing that he couldn't personally endorse the marriage, said his wife referred the couple to another justice of the peace.
The bride says the case boils down to discrimination.
Humphrey said on Thursday that she called Bardwell on October 6 to ask about getting a marriage license, and was asked by his wife whether it would be an interracial marriage. Humphrey said she was told that Bardwell does not sign off on interracial marriages.
She said the couple, who received their marriage license October 9 from another justice of the peace in the same parish, have reached out to an attorney to determine their next step.
"We would like him to resign," she said. "He doesn't believe he's being racist, but it is racist."
Patricia Morris, president of the NAACP branch of Tangipahoa Parish said her NAACP chapter has forwarded the case to the state and national levels of the civil rights group.
"He's an elected public official and one of his duties is to marry people. He doesn't have the right to say he doesn't believe in it," Morris said Thursday. "If he doesn't do what his position calls for him to do, he should resign from that position."

According to the Census Bureau, Tangipahoa Parish is about 70 percent white and 30 percent black.
The U.S. Supreme Court tossed out any racially based limitations on marriage in the landmark 1967 Loving v. Virginia case. In the unanimous decision, the court said that "Under our Constitution, the freedom to marry, or not marry, a person of another race resides with the individual and cannot be infringed by the state."
E-mail to a friend

CNN's Samira Simone contributed to this report.