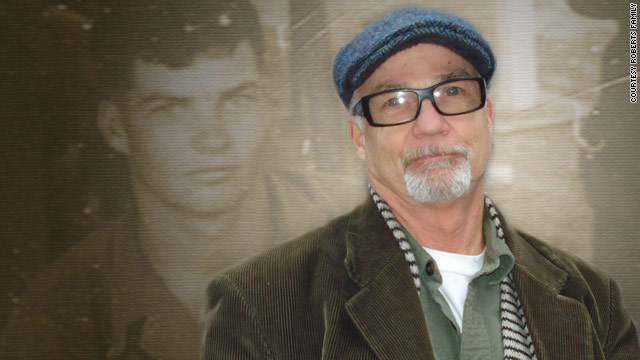 STORY HIGHLIGHTS
Veteran who suffered 40 years with nightmares is returning to Vietnam
Kevin Roberts, now 64, will build houses for poor families along the Mekong River
Psychologists who treat trauma say his return could be healing -- or harmful
(CNN) -- He is a former Marine who has lived with battleground nightmares for 40 years and now plans a return to the land that haunts him.
But Kevin Roberts' decision is not fueled by remorse. Nor is it about healing a life defined by 13 stinging months in Vietnam. Rather, late-in-life altruism has led him to volunteer to build houses for poor families residing along Vietnam's Mekong River.
"I wasn't thinking, 'Oh, I blew up half the country and now let me go and build it back," says Roberts, 64, of Pleasantville, New York, a small town 30 minutes north of Manhattan, where he owns a house-painting business.
As for a sense of closure: "I hate that word," he says without hesitation, thinking both about the war and his 13-year-old daughter, Elizabeth, who died in 1995 from a congenital heart problem.
"I was there and did what I did; that's not going to change," he says. "My daughter died and is not coming back. Things like this don't close."
So why, after years of heroin addiction, alcoholism and untreated post-traumatic stress disorder, has Roberts decided to do something good in the land he remembers as bad? And how will it affect him?
That last question may be best left for doctors who treat him at the Veterans Affairs hospital in nearby Montrose, New York. But Roberts has a single word he repeats when discussing his pending journey: anxiety.
Will he still be seen as the enemy? Will he still be hated?
Next week, he'll pick up a hammer and saw for the Jimmy and Rosalynn Carter Work Project 2009, an annual weeklong affordable housing project led by the former president. Roberts will join a team of about 20 volunteers who will construct houses in Ke Sat village, just outside Hanoi, November 15-21.
His daughter Mary organized raffles at the Starbucks where she works to raise money to defray his costs. "He really wanted to go," she says, "and I am so proud of him."
The tough part for Roberts will begin after the back-breaking work is over. He plans to hop on a motorcycle and fly like the wind south to Da Nang, where he learned the meaning of fear.
A month on the hill
Vietnam began for Roberts with an SAT score that screamed: You're not going to college. He wasn't resigned to pumping gas for a living, so he enlisted in the Marine Corps and found himself training on Parris Island, South Carolina, the day President Kennedy was shot.
A year-and-a-half later, the freshly trained radio operator was among the first official U.S. troops in Vietnam, landing on a beach with the 1st Battalion, 9th Marine Regiment. A blast of hot, humid air smacked Roberts in the face. It stayed that way for an entire year.
In Da Nang, Roberts spent a month at a hilltop observation post. The days crawled. Guys played hand after hand of pinochle to make time tick faster.
We expected the enemy to attack every night and we spent entire nights listening to the darkness.
--Kevin Roberts
They had little to look forward to, besides the chopper carrying mail from home. And two Vietnamese girls in white blouses and long ponytails who made the hourlong climb up the hill every day to bring the Americans supplies to spice up their rations. Cokes, duck eggs, onions.
Typical of their age, the girls giggled a lot. And when they did, Roberts could see they had bad teeth. They were the only contact he had with the outside world. They made him smile.
But nights were another thing. The war was full throttle after the sun went down. Small-arms fire rattled the valley below and artillery rounds tore through the air overhead. Roberts learned to await the thud of the impact somewhere in the near distance.
"We expected the enemy to attack every night, and we spent entire nights listening to the darkness."
One night, the young private heard what he and his fellow Marines thought was the enemy approaching. A trip-flare had been set off.
"They're here," he thought. His heart racing, Roberts hurtled out of the bunker, shooting. But there was no attack.
"I don't have a story where my buddy got his head shot off in front of me," Roberts says. His is a tale of a man changed by menacing uncertainty, the kind that makes you forever afraid of the dark.
It took Roberts' second wife, Dianne Ripley, 25 years to discover the underlying reasons for her husband's anxiety. When she did, she strung white Christmas lights to erase the darkness in their bedroom.
"He explained that it was from the month spent on that hill," she says. "He told me that he never knew if he killed anyone. He shot bullets during that month, but was never sure who or what he was shooting at."
When Roberts returned home in 1966, he met a burgeoning anti-war movement. Instead of a parade, he got called a baby killer. He retreated within himself and fell silent about the war, numbing himself with heroin and alcohol.
Later, he joined other vets who protested Vietnam. It was the only thing he could do to fit in again.
Mentally scarred
Only recently has Roberts sought professional psychiatric help for his mental scars. He doesn't know how Vietnam will affect him the second time around -- when he feels that blast of hot, humid air again.
Psychologists say that returning to a place of trauma can be a healing experience.
"If you have someone who has processed the trauma, then I think it can be a good thing to see the country with a different eye," says Maryrose Gerardi, an assistant professor of psychology at Emory University in Atlanta, Georgia, who treats Iraq veterans for post-combat stress.
But for someone who has not come to terms with a traumatic experience, a trip back can be devastating, Gerardi says. Roberts' doctor declined to be interviewed for this story.
Roberts is hoping the journey will prove positive. He is most keen to find the two women in Da Nang. He doesn't know their names or where they live -- he just remembers their smiles.
"If I were to see them, I would just like to thank them for making a rather significant portion of my 19-year-old life bearable," he says.
Roberts calls himself a selfish man who has never volunteered for anything aside from a two-year stint as an assistant lacrosse coach. The Habitat build, he hopes, will help him feel good about himself after a lifetime of struggle.
After sharing a chunk of that troubled life with Roberts, Ripley does not disagree with her husband's assessment of himself. "My hope is that he can hold on to the pride that this trip will afford him," she says.
Roberts is on his way back to the land where he was sent on a mission of destruction more than 40 years ago. This time, his task is quite the opposite, though the journey may be no easier.