Big names ask Iran to release U.S. hikers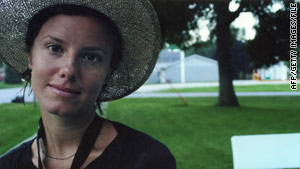 Sarah Shourd, seen in an undated family photo, is one of three U.S. hikers held in Iran since July.
STORY HIGHLIGHTS
Celebrities, activists, academics sign appeal to Iranian president
Document asks for release of three Americans arrested in July
Trio say they strayed over border while hiking in Kurdistan
Among signers: Mia Farrow, Richard Branson, Hanan Ashrawi, Jesse Jackson
(CNN) -- Prominent activists, academics and celebrities are joining the growing call for the release of three American hikers who have been held in an Iranian prison since July.
Activist Gloria Steinem, billionaire businessman Richard Branson, actress Mia Farrow, the Rev. Jesse Jackson and Robert F. Kennedy Jr. are among a list of 80 international signatories to a petition appealing for the release of Shane Bauer, Sarah Shourd and Josh Fattal.
The appeal was sent Wednesday to Iran's United Nations mission with a request to forward it to Iranian President Mahmoud Ahmadinejad.
"The three hikers have been held for four months ... despite your own undertaking more than two months ago to ask the Iranian judiciary to expedite the case and show 'maximum leniency,'" the appeal to Ahmadinejad says.
"To continue to detain them without due process raises grave concerns that Iran is holding these three young Americans for political purposes and calls into question Iran's stated commitment to the rule of law."
The Americans were detained on July 31, when, according to their families, they accidentally strayed across an unmarked border into Iran while on a hiking trip in Kurdistan. They are being held on espionage charges.
Wednesday's petition is the latest appeal for their release.
Families of the hikers submitted a grassroots petition to Iran's U.N. mission in October. The signatures on that petition, posted online, now number more 4,700.

Video: Detained Britons freed
Secretary of State Hillary Clinton has requested the Iranian government "exercise compassion" in the case.
"We believe strongly that there is no evidence to support any charge whatsoever," Clinton said last month.
The United States, which has no diplomatic relations with Iran, has relied on the Swiss to appeal directly for the hikers' release. A Swiss diplomat has met twice with the Americans in their Iranian prison.
Watch what Iran did with five British sailors it captured
The Americans entered northern Iraq from Turkey on July 28 during a planned five-day hike. Bauer and Shourd had been living in Damascus, Syria; Fattal was visiting. They set out to hike in northern Iraq's Kurdistan region.
Friends and family have said the hikers did not know they were near the border and made "a simple and regrettable mistake" by crossing into Iran.
Wednesday's appeal was organized by associates and friends of the three Americans. Other signatories include Palestinian activist Hanan Ashrawi, anti-war activist Medea Benjamin, former Brazilian President Fernando Henrique Cardoso and author Dave Eggers.