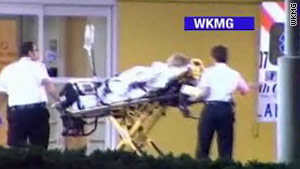 Paramedics in Orange County, Florida, respond to a medical call at Tiger Woods' house.
STORY HIGHLIGHTS
NEW: Barbro Holmberg resting at Tiger Woods' home, hospital spokesman says
Holmberg is mother of Woods' wife, Elin Nordegren
Holmberg, 57, was admitted to hospital early Tuesday morning with stomach pain
Tiger Woods taken to same hospital after crashing SUV on November 27
An ambulance was called to Tiger Woods' home and a woman was rushed to the hospital. Watch "Nancy Grace" tonight at 8 and 10 ET on HLN for the latest breaking developments.
Orlando, Florida (CNN) -- Tiger Woods' mother-in-law, Barbro Holmberg, was released from a hospital in "good condition" Tuesday afternoon, hours after she was admitted, a hospital spokesman said.
Holmberg -- the mother of Woods' wife, Elin Nordegren -- was admitted to Health Central Hospital in Ocoee, Florida, early Tuesday morning for stomach pain.
Paramedics arrived at Woods' home in Orange County, Florida, after a 911 call was made at around 2:35 a.m., dispatch information shows.
Hospital spokesman Dan Yates said that Holmberg, a regional governor in Sweden, was resting at Woods' home after being released around 2 p.m. ET. Yates would not comment further on Holmberg's hospital stay, saying only that she was in a "good state and feeling much better."
Health Central Hospital is the same hospital where Woods was taken after he crashed his sports utility vehicle into a fire hydrant and a tree outside his mansion near Windermere on November 27.

Video: Emergency at Woods' home
Eva Malmborg, a spokeswoman for Gavleborg County, where Holmberg is governor, told CNN that she had been taken to the Florida hospital because of abdominal pain.
"She is, after the circumstances, well," Malmborg said. "We count on her being back at work on Monday."
There has been no comment on Wood's Web site regarding his mother-in-law's difficulties.
Woods, 33, who tops the sport's world rankings, has been mired in controversy since the crash, which prompted authorities to cite him for careless driving and fine him $164.
Woods was not required to talk to police about the wreck, and declined to talk with investigators on several occasions.
A document from the Florida Highway Patrol released Monday shows that the patrol sought private medical records from Woods, saying investigators suspected the golfer may have been driving under the influence.
More coverage from CNN affiliate WESH
More coverage from CNN affiliate WKMG
More coverage from CNN affiliate WFTV
Florida Highway Patrol trooper Joshua Evans filed the request to obtain Woods' blood test results because "the witness who removed the driver from the vehicle" said Woods consumed alcohol "earlier in the day" and that he had prescriptions for the painkiller Vicodin and the sleep aid Ambien.
Woods' wife told investigators she pulled her husband from the vehicle after he crashed.
The state attorney's office denied the subpoena request, however, citing "insufficient information provided to issue subpoena," and Florida defense attorney Mark Eiglarsh, who specializes in DUI cases, said the evidence provided in the request was "flimsy."
State attorney spokeswoman Danielle Traverneir said the request for the subpoena was fairly routine in such cases and that it was not uncommon to deny them.
The Florida Highway Patrol has closed the case. Sgt. Kim Montes said Tuesday that the investigative subpoenas are a normal part of the investigation. "When we meet with the state attorney, they make the final determination. It wouldn't be proper for us to comment on that," she said.
In the week following the crash, the golfer apologized for "transgressions" that let his family down. The same day gossip magazine US Weekly published a report alleging Woods had an affair.
"I have let my family down and I regret those transgressions with all of my heart. I have not been true to my values and the behavior my family deserves," he said in a December 3 statement on his official Web site.
US Weekly magazine printed a report alleging that Woods had an affair with Jaimee Grubbs, whom it identified as a 24-year-old cocktail waitress. The magazine also published what it says is a voicemail message from Woods to Grubbs.
Share your thoughts on Tiger's 'transgressions'
CNN could not independently confirm that the voice on the recording was Woods.
The magazine's report followed a National Enquirer report that Woods was having an affair with a New York nightclub hostess, an assertion the hostess vigorously denied, according to The New York Post.
CNN's John Couwels, Per Nyberg and Rich Phillips contributed to this report.