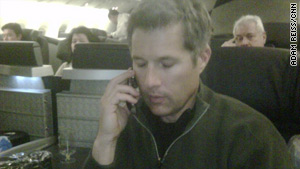 David Goldman appears aboard a jetliner flying to Brazil.
STORY HIGHLIGHTS
A father says he hopes to be reunited with his son after five years apart
Exonerated by DNA evidence, a man leaves a Florida prison after 35 years
Tokyo man marries his dream woman, a video game character
Editor's note: Every weekday, CNN focuses on a handful of people in the news. This is a chance to find out more about what they've done -- good or bad -- what they've said or what they believe, and why we think they're intriguing.
(CNN) -- David Goldman
An American father said he hopes to bring his 9-year-old son home from Brazil on Thursday after a long international custody battle that has involved U.S. Secretary of State Hillary Clinton and many Brazilian courtrooms. A Brazilian court Wednesday ordered that Sean Goldman be returned to the custody of his father, David, in the U.S.
The custody battle began in 2004 when David Goldman's wife, Bruna Bianchi, took their 4-year-old son from their New Jersey home to Rio de Janeiro, Brazil, for what was to have been a two-week vacation. She never returned, instead divorcing Goldman, remarrying there and retaining custody of their son. She died last year.
Goldman has argued that, as the sole surviving parent, he should be granted custody. But the boy's stepfather and his other Brazilian relatives have countered that it would be traumatizing to the child to remove him from what has been his home for most of his life -- the custody fight in the courts may not be over since an appeal is likely.
CNN: Father hopes to bring son home
James Bain
After more than three decades in prison, Bain, 54, was allowed to go home Thursday for the first time in 35 years. He was freed from a life sentence after a DNA test showed he didn't take a 9-year-old Lake Wales, Florida, boy from his bed in 1974 and rape him. Of the 245 people in the U.S. whom DNA testing has exonerated, none has spent more time behind bars than Bain, according to the Innocence Project, a national organization dedicated to exonerating wrongfully convicted people through such testing.
CNN: After 35 years, freedom in sight
Donna Campbell
The former 1979 Miss Trinidad and Tobago beauty pageant runner-up said she wants to divorce her husband, who's left her facing eviction from her home in Florida, according to The Miami Herald. But first she has to find him. Arnim Ramdass was part of a group of American Airlines mechanics who won a $19 million Florida Lotto jackpot in 2007, the Herald said. Campbell told the paper that she last saw her husband in July and that the mortgage is no longer being paid. Ramdass kept his winnings of nearly $450,000 after taxes secret from his wife, the paper said, citing her divorce petition. Campbell told the Herald she wants to continue her legal fight after an unsuccessful suit for part of the winnings.
The Miami Herald: Lottery winner's wife faces eviction
Nene Anegasaki
She is the perfect bride -- perhaps if you're a misogynist. Nene Anegasaki is beautiful, fun and doesn't talk back. She's also a character in the Nintendo DS video game Love Plus. Japan's Internet community has witnessed relationships and marriages to avatars, though it's typically been within the confines of the virtual world. Last month, a Tokyo man called Sal 9000 -- the only name he would give -- decided to be part of the first human-to-avatar union. Clad in a white tux, Sal married Nene in front of some friends and Web users watching the ceremony live online.
CNN: Tokyo man marries video game character
What makes a person intriguing?
There are people who enter the news cycle every day because their actions or decisions are new, important or different. Others are in the news because they are the ones those decisions affect. And there are a number of people who are so famous or controversial that anything they say or do becomes news.
Some of these people do what we expect of them: They run for office, pass legislation, start a business, get hired or fired, commit a crime, make an arrest, get in accidents, hit a home run, overthrow a government, fight wars, sue an opponent, put out fires, prepare for hurricanes and cavort with people other than their spouses. They do make news, but the action is usually more important than who is involved in the story.
But every day there are a number of people who become fascinating to us -- by virtue of their character, how they reached their decision, how they behaved under pressure or because of the remarkable circumstances surrounding the event they are involved in.
They arouse our curiosity. We hear about them and want to know more. What they have done or said stimulates conversations across the country. At times, there is even a mystery about them. What they have done may be unique, heroic, cowardly or ghastly, but they capture our imaginations. We want to know what makes them tick, why they believe what they do and why they did what they did. They intrigue us.
FOLLOW THIS TOPIC