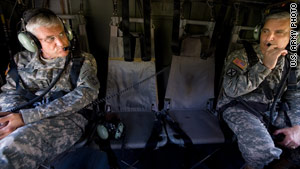 Maj. Gen. Anthony Cucolo, right, issued the directive in an attempt to prevent losing soldiers from active duty.
STORY HIGHLIGHTS
New order makes getting pregnant, impregnating a fellow soldier an offense
Rule allows court-martial, but commander says it won't come to that
Rule meant to prevent losing soldiers when troop strength is stretched thin, general says
Of the 22,000 people in the command, 1,682 are women
Washington (CNN) -- The commander who instituted a policy cracking down on pregnancy among soldiers defended it Tuesday as necessary to maintain troop strength, but said no soldier would ever be court-martialed for violating the directive.
The policy -- which would punish soldiers who get pregnant or impregnate another soldier -- was included in Maj. Gen. Anthony Cucolo's orders to troops regarding conduct while deployed under his command in northern Iraq.
Cucolo, who has 22,000 people under his command, including 1,682 women, said the policy is meant to make his soldiers "think before they act."
"The main reason why I did this was my intense desire to maintain my fighting strength any way possible in a very tough and complex mission that includes a drawdown," he told reporters in a conference call Tuesday. "The consequence of them departing early is they're leaving their team, their unit, shorthanded with their special skills."
The specific rule in the general order prohibits "becoming nondeployable for reasons within the control of the soldier," which includes "becoming pregnant, or impregnating a soldier ... resulting in the redeployment of the pregnant soldier."
Pregnancy that arises from sexual assault would not be punished, Cucolo said.
The directive applies to all military and civilians serving under Cucolo in northern Iraq, an area that includes Balad, Kirkuk, Tikrit, Mosul and Samarra, according to the Web site of Multi-National Force Iraq.

Video: Punished for pregnancy?

Video: No pregnancy, general's orders

Video: Pregnancy punishment
While violation of any of the rules in "General Order Number 1" could lead to court-martial, Cucolo said he never intended such a drastic punishment for pregnancy.
"I believe that I can handle violations of this aspect with lesser degrees of punishment," Cucolo told reporters. "I have not ever considered court-martial for this. I do not ever see myself putting a soldier in jail for this."
The general said he alone would decide on each case based on the individual circumstances.
To date, he said, there have been eight cases of women getting pregnant while deployed under his command. Four were given letters of reprimand that were put in their local files, which means they would not end up in their permanent files and they would not be a factor in being considered for promotions. The four other women found out they were pregnant soon after they deployed; because they were not impregnated while deployed, no disciplinary action was taken.
In all cases, the women were sent back to the United States for medical care, as is military policy. Each has the right to submit a letter in her own defense to be included in her file.
Of the men involved, three were reprimanded, Cucolo said. One, a sergeant, was given a more severe punishment of a written reprimand in his permanent file because he fraternized with a subordinate and committed adultery. A letter in the permanent file can affect a person's career as it is considered when a service member is up for promotion.
A fourth man was never reprimanded because the pregnant soldier refused to identify who the father was and Cucolo did not pursue the issue.
Every unit has a General Order that outlines code of conduct. Commanders are allowed to add to those rules but are not allowed to make the rules any more lax. Cucolo wrote the additional rule after consulting with his commanders, lawyers and subordinate officers, including two female officers who both "supported it 100 percent," he said.
The policy has generated intense debate since it was reported on over the weekend. CNN's report has generated more than 900 comments from readers on CNN.com.
"People who sign up for the military should expect to have rules & regulations -- that's all this is," one person wrote on the site.
"This must be a joke. It needs to be fought and is another realization of the failures of our military leadership. They have put their careers before their consciences," wrote another reader.
Cucolo said that as a former public affairs officer, he realized when he created the rule that it would be controversial for those outside the military.
"When I wrote this, I knew there would be public interest, and I also knew there would be a period of time when many folks would opine and give their own personal thoughts and blog about it. And I am fine with that. That's America," he said. "But I was also willing to deal with this attention because this is important. I am responsible and accountable for the fighting ability of my task force. I've got to take every measure to preserve my combat power, and that's the reason."
Cucolo said that while some might see this as "treading on an intensely personal topic," he feels those in service have other personal obligations.
"Look, I realize it might be hard for those who have never served in a military unit to completely understand what I tried to explain," he told reporters. "[Leaving] those who depend on you shorthanded in a combat zone gets to be very personal for those left, too."
Despite critics, Cucolo said the inclusion of the rule was important.
"I will listen to critics and they add thought, but they actually don't have to do anything. I have to accomplish a very complex mission -- very complex," he said. "I'm going to do what it takes to maintain our strength and bring as many home as I can. ... I believe the American people expect me to do everything I can to keep every one of the soldiers that their money, their taxpayer dollars, trained and got ready for this in the fight."