By Jim Kavanagh
CNN





(CNN) -- Jennifer Sondag looks up at a wall of sandbags nearly twice her 5-foot-7-inch height and knows she's done a great work for her parents and their neighbors. She also knows she's nowhere near done.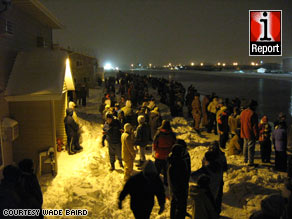 Volunteers wait early Thursday for sandbags in Fargo, North Dakota, in a photo from iReporter Wade Baird.
"Hopefully, they'll hold the water and everything will be fine, but you just have to prepare for the worst," said Sondag, 25, an iReport contributor for CNN. "And after a while of doing that it really bogs down on your emotions, and it really gets tough physically and tough emotionally."
She's been helping build up a dike in her parents' Moorhead, Minnesota, neighborhood for days to protect it from the rising waters of the Red River. Moorhead is across the river from Fargo, North Dakota. The dike ranges from about chest high to about 10 feet tall, she said.
"Volunteers are still really, really badly needed," she said. "We still need to get sandbags on dikes and get homes secure."

Watch Sondag talk about the effort being made »
Sondag slept Wednesday night in her parents' basement in Moorhead to avoid the one-hour drive from her home in Pelican Rapids, Minnesota, to her job in Fargo. A sump pump in the basement is working overtime.
"Every time I heard the sound of water trickling in the sump pump I thought that we were flooding, and I kept waking up," she said. "So it's not good sleep, but it counts for something."
She went to work Thursday morning in Fargo, but many of her co-workers didn't make it in.iReport.com: See Sondag's video diaries
Don't Miss
"A lot of people aren't here; they're at home sandbagging or whatever," she said. "One girl, her in-laws evacuated yesterday. Another one of our employees called and said she needed help sandbagging at her house.
"It's just getting to the point where we're looking around and wondering, 'Are we going to make it through this?' ... Our nerves are really worn out right now.
"We're just so preoccupied with what's going on we're not getting a lot of work done."
Fargo software engineer Wade Baird's employer, Microsoft Corp., has allowed employees to take time off to help in the flood-fighting effort.
He was among 300 to 400 people building up a dike until 3 a.m. Thursday along a drainage ditch in south Fargo. Volunteers had to wait for about 45 minutes until sandbags arrived, he said. iReport.com: Watch as volunteers line up to start sandbagging
"Then people got organized pretty quickly. They got several lines going, and they started passing them down," a weary-sounding Baird said. "Then whoever was at the end was laying them down. Then the trucks, they just kept on coming."
Baird said his wrists hurt after six hours of slinging sandbags.
"Everything else is sore but not terrible," he said.
In 1997, Baird was a high school student in Grand Forks, North Dakota, when that city flooded after forecasters badly underestimated a flood crest.
But in Fargo, "if it goes where they say it's going to, I think we'll be fine," he said.
Several inches of new snow were both a blessing and a curse, iReporters said.
"It has definitely thrown a wrench into everything," Sondag said. "Getting out and sandbagging in this is not fun for anybody. It's cold, it's windy, and we all just kind of want to be inside. But we have to sandbag."
On the other hand, Baird said, snow is preferable to rain, as it helps volunteers stay dry and the cold retards melting that contributes to the flooding.
And the battle is far from over.
"The crest is expected to stay at 41 feet for two or three days," Sondag said. "It's easy to forget about what happens after the crest. You just think about, 'OK, it's going to come here on Saturday.'
"And then Saturday comes, and you're still maintaining your dikes Saturday, Sunday and Monday. The water doesn't just go away; it goes down really slowly. So it'll be a big battle from here on out until the water is safely down."

But there's hope. Patt Frantz, 60, who has helped by donating food, said she sees a silver lining in all of this:
"All of the women here are going to have Michelle Obama arms," she quipped.
E-mail to a friend

All About Fargo • Floods • Microsoft Corporation