FARGO, North Dakota (CNN) -- Forecasters revised their predictions as the Red River appeared to level off Saturday, but Fargo officials said they were reluctant to believe the worst has passed.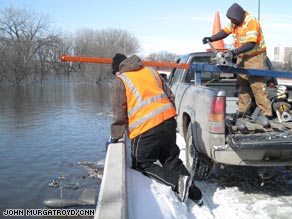 Hydrologists take measurements of the Red River from a bridge linking Minnesota and North Dakota Saturday.
"In past flooding, you have to understand, we've had times in which people thought it crested and then it came back and went up," Fargo Deputy Mayor Tim Mahoney said.
"And our temperature is changing, so we will be reluctant to announce a crest until we truly feel there's been a crest."
Above-freezing temperatures, followed by heavy rains this week, caused the Red River and its tributaries to swell, sending Fargo into emergency preparation mode.
By 9:15 p.m. (10:15 p.m. ET), the river was at about 40.44 feet, slightly lower than where it stood earlier Saturday, at 40.61 feet. River levels were expected to stay below 41 feet and slowly drop over the next three to seven days, according to the National Weather Service. iReport.com: Are you there? Share your photos, video
Still, forecasters warned of "relative uncertainty" about the predictions.
"The good news, or shall we say the cautiously optimistic news, is that the river is behaving rather nicely for us now," said Greg Gust of the National Weather Service.
"The official terms are that the crest is occurring. We don't believe that the actual, ultimate crest has occurred yet," Gust said, speaking at a news conference in Moorhead, Minnesota -- across the Red River from Fargo.
Gust said forecasters had revised earlier predictions. For the next several days to a week, the river is expected to "stay very near 41 feet with fluctuations of half a foot to a foot, meaning, we could rise well above 41 feet," he said.

Watch report on the river leveling off »
Earlier, the agency had said the river could reach as high as 43 feet, the height of the city's dikes.
The revised forecast did not allay the concerns of officials in Fargo or Minnesota.
"I know we're all feeling a little bit of a sense of relief, that the river has slowed down, but I want to warn against any kind of complacency," Minnesota state Rep. Morrie Lanning said at the same news conference in Moorhead.
Don't Miss
"We've got a huge amount of water that's frozen now that's going to run off."
Moorehead officials asked residents in two areas of the city to evacuate, and Minnesota State University at Moorhead and Concordia College had voluntarily closed.
Fargo Mayor Dennis Walaker also said he was concerned with how long the river was expected to stay above the flood level. The water level has broken the previous record of 40.1 feet, set in 1897.
"Just because it crests it doesn't mean that the threat is over," he said.
Residents in Fargo and Moorhead warily waited to see whether miles of levees and sandbags would hold. Sandbagging operations came to a close in Fargo on Friday, after volunteers had filled about 3 million sandbags.

Watch volunteers battle the rising water »
About 1,700 National Guard members were checking dikes in the city of about 90,000 residents, North Dakota's most populous. Mahoney said the city also had prepared "sand balloons" -- about two tons of sand that could be dropped via helicopter onto any breach, he said.
President Barack Obama said he was monitoring the situation carefully.
"Even as we face an economic crisis which demands our constant focus, forces of nature can also intervene in ways that create other crises to which we must respond -- and respond urgently," he said Saturday in his weekly radio and Internet address.
"For the people of North and South Dakota and Minnesota who live along rivers spilling over their banks, this is one such moment."
The president has signed emergency and disaster declarations for Minnesota and North Dakota, freeing up federal funds for the region.

See map of affected area »
The acting head of the Federal Emergency Management Agency, Nancy Ward, has also been dispatched to the area, and five active duty Army CH47 "Chinook" helicopters have been sent there. Earlier reports said 15 of the choppers were to be deployed.
Fargo officials emphasize that they have not asked the entire city to evacuate, although some residents have already evacuated some of the city's neighborhoods, hospitals and a nursing home.
After the river crests, the city may still have to endure days of high water, which will test their dikes and levees.
"The problem is containing the river within the area we've allowed it to be, and breaches and so forth can happen," Walaker said.
The Red River approached the 1897 level in 1997, when it reached 39.6 feet, a level that many residents thought would be the highest they would ever see the river.

Watch a family fight to save their home »
"Everybody thought after '97 that we had seen the worst possible situation," Fargo resident Jim Shaw told CNN. "We thought we were safe, we survived that one, we're good for the rest of our lives. So believe it or not, even though this area is prone to flooding, this is a big shock, this is a big stunner, and it's probably a wake-up call," he said. "Some people might reconsider wanting to stay here."

He said his family had moved valuables to the highest point in his house, and moved his daughters' sleeping arrangements upstairs.
"If there's flooding and it's furniture or other items; that's gone, that can be replaced, but I can never replace my memories," he said.
E-mail to a friend

CNN's Susan Roesgen contributed to this report.
All About North Dakota • Fargo • Floods