(CNN) -- A 7-year-old girl died after a large ocean wave kicked up by Hurricane Bill knocked her and two other people into the Atlantic off Maine's Acadia National Park on Sunday, a park official said.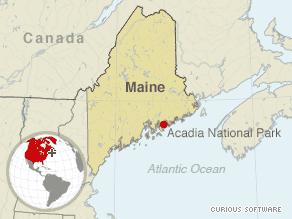 An ocean wave knocked three people into the Atlantic off Maine's Acadia National Park on Sunday.
Coast Guard rescuers plucked the three from the ocean after a wave swept them from a rocky ledge at the park, according to Sheridan Steele, the park's superintendent.
The conditions of the two survivors -- a 12-year-old girl and a man -- were not immediately available. No names were released.
Ocean waves also injured a few other people at the park, knocking them to the ground or into rocks and crevices, Steele said. Some were taken to a hospital with broken bones or other injuries, Steele said.
The victims were among several thousand people who were at the park late Sunday morning to watch the high waves that Hurricane Bill -- a Category 1 storm -- was producing offshore.
"Even though we try to warn people and try to get people to watch from a safe distance, we weren't able to contact everybody in time," Steele said Sunday evening.
The hurricane's center passed New England without making landfall and got very close to the Canadian province of Nova Scotia on Sunday afternoon. It was expected to pass near or over southeastern Nova Scotia, Canada, on Sunday night, the National Hurricane Center said.

Watch how Canada is bracing for Bill »
At 11 p.m., Hurricane Bill was about 115 miles west-northwest of Cape Race, Newfoundland, according to the hurricane center.
The storm had maximum sustained winds near 75 mph, and was moving to the east-northeast near 40 mph the center reported. Bill would become a tropical storm if its winds fall below 74 mph.
"Weakening is forecast during the next 24 hours and Bill is expected to become extratropical on Monday," the center's 11 p.m. advisory said. "Large and dangerous swells generated by Hurricane Bill will continue to impact the Atlantic Maritimes of Canada overnight."
Though tropical storm warnings were lifted in the United States, tropical storm warnings were in effect for parts of Canada's Nova Scotia, Prince Edward Island and and Newfoundland.
A tropical storm warning means tropical storm conditions are expected somewhere within the warning area within 24 hours.
"Large and dangerous swells generated by Hurricane Bill" were possible along those provinces Sunday night, and 2 to 6 inches of rain were possible in Newfoundland, the advisory said.
Earlier, the weather service warned that dangerous surf and "life-threatening rip currents" remained concerns along the U.S. East Coast. Rip currents are strong seaward flows of water that occur where there's a break in the shoreline. They are difficult to detect.

Watch a primer on rip currents »
The water is unsafe even for "strong swimmers," Massachusetts Gov. Deval Patrick warned Saturday.
Though beaches along the Massachusetts coast remained closed, the National Weather Service lifted its tropical storm warnings there Sunday morning.
Stuart Smith, the harbormaster in Chatham, Massachusetts, said there were reports of "insignificant" storm-related damage, but Bill did not cause much concern.
"I think we really dodged a bullet," he said. "It stayed just enough offshore to give us a break."

Watch how Canada is bracing for Bill »
It's good news for President Obama and his family, who planned to arrive for vacation in Martha's Vineyard, Massachusetts, on Sunday.
"We look forward to welcoming him to Massachusetts as soon as he can safely get here," Patrick said.
Rain was scant in Chatham on Sunday morning as residents went about their normal business.
Doug Ricciardi, a cook at the Chatham Pier Fish Market, was making 5-gallon buckets of chowder, as he does every morning. He said he was expecting a typically busy day at the restaurant.

Watch how surf warnings persist in North Carolina »
Smith said the only problems reported were a few small boats washed ashore or coming loose from their moorings.
Patrick O'Connell of Chatham said he has a house on nearby North Beach Island, and neither his nor his neighbor's house suffered any damage.
Smith said the beaches should reopen Monday at 2 p.m. after the heavy surf and rip currents pass.
The Coast Guard reported swells reached 18 feet about 15 miles off the Massachusetts coast early Sunday. The swells began diminishing around 3 a.m., and swells off the coast of Chatham on Sunday morning were 11 feet.

Watch the waves crash on Massachusetts beach »

Hurricane Bill skirted Bermuda, leaving rain in its wake. A tropical storm warning for Bermuda was discontinued. iReport.com: Are you bracing for Hurricane Bill?
The weather service reported that swells from Bill continued to affect Bermuda early Sunday, but should gradually diminish over the course of the day.
E-mail to a friend

CNN's Susan Candiotti contributed to this report.
All About Hurricanes and Cyclones • National Weather Service • Nova Scotia • Newfoundland and Labrador