ATLANTA, Georgia (CNN) -- Dry skies greeted Georgia for a second day Wednesday, giving residents a chance to mourn, recover and repair after devastating floods killed nine people earlier this week.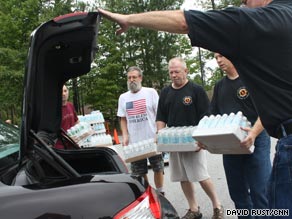 Douglas County, Georgia, emergency managers provide water Wednesday to residents without treated water.
Water was beginning to recede in many areas, and some roads, including Interstate 285 and Interstate 20, were reopening.
Several others remained closed, state authorities said.
As of Tuesday afternoon, hundreds of people were still in shelters, with more than 250 people in the Cobb County Civic Center, according to the Red Cross.
There are cases where people have lost everything, spokeswoman Lisa Matheson said Tuesday.
Before they were evacuated, Cordell Albert and her husband, Christopher, moved their valuables to the second floor of their Powder Springs home, CNN affiliate WGCL reported.
"I feel lost," she said, according to the affiliate. "I feel homeless."

Watch more about the flooding aftermath and cleanup »
Gov. Sonny Perdue has declared a state of emergency in 17 flood-stricken counties, and State Insurance Commissioner John Oxendine estimated that the flooding has caused an estimated $250 million in losses.

Watch where the flooding hit hardest »
"Many of the homeowners afflicted by this event don't have flood insurance," he said in a written statement.
Don't Miss
Georgia's flood-related death toll has reached nine, authorities said, with six deaths alone in Douglas County, west of Atlanta.
To the north, one person was missing and presumed dead in Chattanooga, Tennessee.

See photos of the flooding »
Perdue spoke to President Obama on Tuesday night about the flooding, White House spokesman Nick Shapiro said.
The president "expressed his condolences for the loss of life and his concern for the citizens of Georgia amidst the ongoing flooding," Shapiro said.
Perdue updated Obama on the situation, and the two discussed the response to the crisis, Shapiro added. The president also assured the governor that his request for federal aid would receive prompt attention, the spokesman added.
Parts of northwest and south-central Georgia, as well as the metro Atlanta area, were still under flood warnings Wednesday. Also on Wednesday, students from three of metro Atlanta's four largest school districts were returning to classes after flooding caused school closings the day before.

Watch what caused such torrential rain »
But CNN meteorologists said rain was not likely for much of the state Wednesday, although isolated thunderstorms in north Georgia were possible.

Georgia may also see rain this weekend, CNN meteorologist Jacqui Jeras said. "Of course, we're not expecting another foot of rain," she said, "but we could pick up an inch or two." iReport.com: Horses pulled to safety from flooded creek
On Tuesday, Perdue pleaded with residents to stay off flooded roads, noting that nearly all the fatalities in the state were drivers and passengers swept away by floodwaters.
E-mail to a friend

CNN's Carolina Sanchez, Shawn Nottingham and Samuel Gardner contributed to this report.