HARARE, Zimbabwe (CNN) -- The lawyer for a top Zimbabwean human rights activist said Friday that law has "absolutely broken down" in the country after a court in Harare ruled against her client.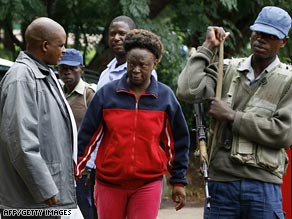 Zimbabwean human rights activist Jestina Mukoko arrives at court in Harare, Zimbabwe.
The judge ruled Friday that the government should not be forced to disclose which state agents kidnapped and allegedly tortured activist Jestina Mukoko last month.
Mukoko, the head of the Zimbabwe Peace Project, is facing charges of plotting against President Robert Mugabe's government. Her lawyer had asked the High Court to squash the criminal proceedings against her until the kidnappers had been brought to court.
The lawyer had also argued that the information police were using against her client was sought while Mukoko was kidnapped, and said her client was denied treatment for her allergies while she was held.
But Judge Alpheus Chitakunya ruled against the motion, and the lawyer, Beatrice Mtetwa, said she was disappointed.
"The law has absolutely broken down in Zimbabwe," Mtetwa told journalists outside the court. "If a High Court can refuse to investigate an admitted kidnapping, refuses a patient a right to medical treatment -- to a place she can get treatment -- what else can we say?"
Mukoko was abducted from her home in Norton, about 40 kilometers (25 miles) southwest of Harare, at dawn on December 3 by state agents. She was missing until December 24, when she appeared in court.
At first, police denied the state had anything to do with the abduction and said they were treating the matter as a kidnapping.
In court, Mukoko was charged with recruiting people for banditry -- a crime that carries the death penalty in Zimbabwe.
Mukoko asked the High Court to order the police to treat her as a complainant, saying the police must investigate the kidnapping. The court, while acknowledging the "admittedly unlawful kidnappings," ruled against her.
"In effect, the High Court of Zimbabwe has said that if you are unlawfully kidnapped by state security agents, the court cannot look into the legality of that if some government minister invokes state security as a reason for not disclosing the abductions, where they took place and who did them," Mtetwa said.
Mukoko had also sought an order to be taken to a clinic for medical treatment after her alleged torture during her detention -- a period during which she said she was denied access to medication for her allergies.
Judge Chitakunya ruled that Mukoko can go to a clinic for examination only.
Mukoko and other 31 others -- mostly activists from the opposition Movement for Democratic Change, but also a two-year-old child -- were kidnapped between October and December.
They are in police custody despite an earlier High Court ruling that they must be released to a clinic for medical treatment because they said they were tortured.
MDC leader Morgan Tsvangirai has threatened to pull out of a power-sharing deal he signed with Mugabe in September if harassment of his supporters continues.
E-mail to a friend

All About Zimbabwe • Robert Mugabe • Morgan Tsvangirai