(CNN) -- A leading Zimbabwean human rights activist must remain in custody until the Supreme Court decides whether the charges against her are valid, a judge ruled Tuesday.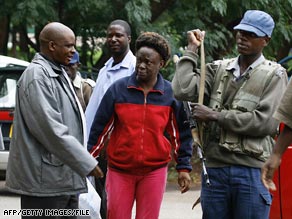 Activist Jestina Mukoko arrives at court in Harare, Zimbabwe, last month.
Jestina Mukoko was seized from her home on December 3 and her whereabouts were unknown until she appeared in court on December 24.
Her supporters say she was kidnapped by agents of the state and forced to confess that she was recruiting people to overthrow the government of President Robert Mugabe. She could face the death penalty.
Tuesday's ruling by magistrate Olivia Mariga means Mukoko cannot legally be treated as a suspect -- but it does not free her from prison.
Eight other people, mostly from the opposition Movement for Democratic Change, face the same charges and will also remain in custody. They include a 2-year-old child, who shouted when he appeared in court Tuesday.
The activists' lawyers want the courts to declare the detention and subsequent charges invalid.
Beatrice Mtetwa, one of the defense lawyers, argued Tuesday, "These are victims of torture and disappearances. For that reason one cannot say they must remain in custody. They cannot be brought to any court, otherwise it will be a travesty of justice."
Don't Miss
Mukoko has been engaged in a legal battle with the authorities, demanding that those she accuses of kidnapping her stand trial.
Charles Kwaramba, another defense lawyer, accused the police of torturing the activists with state approval.
"They are condoning what the perpetrators did," he said.
He also said the MDC activists "are sick and need urgent medical attention."
"Issues of health are confidential in nature. They need to be placed in a hospital in which they are assured of 24-hour treatment, especially after the grave allegations of torture," he said.
Florence Ziyambi, an attorney for the state, said the case presented by Mukoko and the other activists "is ridiculous, invalid and calculated at delaying the proceedings," adding that the "attorney general's hands are now tied up because of these numerous appeals by the defense."
The activists are in police custody despite a High Court ruling last month that they be released to a private clinic. The state wants them treated at a prison clinic.
The Supreme Court has not yet set a date for a hearing on the legality of the charges against the activists.
The abduction and subsequent treatment of the activists has led MDC leader Morgan Tsvangirai to threaten to pull out of the power-sharing deal he signed with Mugabe in September.
The power-sharing deal would keep Mugabe as Zimbabwe's president while Tsvangirai became prime minister. It followed a hotly disputed presidential run-off in June that was marred by more than 200 deaths, mainly of opposition supporters.
E-mail to a friend

All About Zimbabwe • Robert Mugabe • Human Rights Policy