HARARE, Zimbabwe (CNN) -- The Zimbabwean government has announced restrictive licensing fees for foreign journalists working in the country, demanding they pay an annual fee of $4,000 to practice journalism.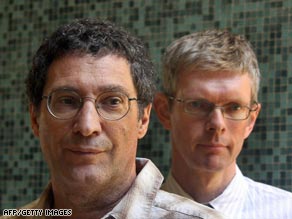 Journalists Barry Bearak and Beven Stephen were charged last year with violating Zimbabwe's media rules.
In addition foreign media groups must pay $10,000 for the application and $20,000 for accreditation, payable only in foreign currency, the government-controlled Media and Information Commission said Wednesday. An administration fee of $2,000 is necessary for the permit.
Zimbabwe has some of the harshest conditions for journalists in the world. Several foreign and local journalists have been arrested in Zimbabwe for lack of accreditation since a media law was passed in 2002.
Last month a spokesman for President Robert Mugabe threatened to ban foreign news bureaus in Zimbabwe, saying they quoted his boss out of context when reporting on the cholera outbreak in Zimbabwe.
Most Western media organizations including CNN are banned from Zimbabwe. Those that do still operate there including Reuters, The Associated Press, Agence France-Presse (AFP) and Al Jazeera would have to pay the fee if they wanted to report from the country.
Zimbabwean government spokesman George Charamba said the fee was being introduced because foreign media organizations were "reducing local reporters to mere runners."
Don't Miss
The new fees do not apply to journalists working for Zimbabwean organizations.
Foreign journalists who want to work temporarily in Zimbabwe must pay $500 and $1,000 for application and accreditation under the new rules.
Dzimbabwe Chimbga, a lawyer from the Zimbabwe Lawyers for Human Rights, told journalists in Harare that the commission had no legal basis to charge the fees.
"I don't see how you [journalists] should comply with a law that is non-existent. On the face of it, it is null and void. MIC is non-existent," Chimbga said.
Another lawyer, Selby Hwacha, said journalists may be able to seek an order entitling them to work in Zimbabwe for the time being.
The Media Institute of Southern Africa [MISA] called on parliament to review the situation immediately.
It said the new fees for foreign media organizations and local journalists working for them "smack of machinations to frustrate and make it difficult to operate in Zimbabwe."
E-mail to a friend