HARARE, Zimbabwe (CNN) -- A Zimbabwe court ruled Friday that seven activists, including a freelance journalist, must remain in custody as they await trial for a series of bombings.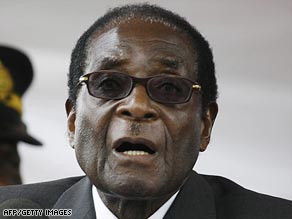 Zimbabwe President Robert Mugabe has repeatedly stymied plans for a unity government.
The court said there was a "reasonable suspicion" they carried out attacks on two Harare police stations and two bridges outside the capital. The court said they must remain in custody until their next court appearance later this month.
The seven are among 32 opposition and rights activists detained at various locations since October. Supporters of the activists claimed the government kidnapped them, and the activists' whereabouts were unknown until they appeared in court on Christmas Eve.
The activists claim they have been tortured during their detention. Thursday, magistrate Olivia Mariga ordered Zimbabwe's attorney general to ask police to investigate the claims but said the activists still had to remain in custody.
"It is my view that that cannot stop the accused from being placed on remand as long as there is reasonable suspicion that they committed the offense," Mariga said.
Don't Miss
The activists deny the charges, arguing they were tortured into confessing to crimes they did not commit and that they were victims of abduction.
Their arrest has heightened fears about the implementation of a September power-sharing deal signed by opposition leader Morgan Tsvangirai and President Robert Mugabe. The deal has stalled over disputes about dividing control of key cabinet posts.
Andrew Makoni, one of the activists' defense lawyers, said he would apply for bail at the High Court on Monday.
Some of the charges carry the death penalty.
Though the defense has asked for a trial as soon as possible, Florence Ziyambi, the attorney general's lawyer, said the High Court schedule means the trial cannot start until May at the earliest.
E-mail to a friend