HARARE, Zimbabwe (CNN) -- Zimbabwe's main opposition party has asked organizations such as the United Nations to help find 11 supporters who were allegedly abducted by government agents, a party spokesman said.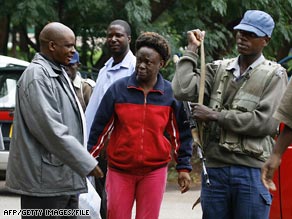 Activist Jestina Mukoko arrives at court in Harare, Zimbabwe, last month.
The 11 were among more than 40 MDC activists who have been taken since October by armed gunmen, said Nelson Chamisa, spokesman for the Movement for Democratic Change (MDC).
The kidnappers also seized the 2-year-old son of two abducted activists, Chamisa said.
Thirty-two abducted activists, then in the hands of state security, appeared in court in December. They face charges of plotting to overthrow Zimbabwean President Robert Mugabe and bombing police stations in the capital, Harare.
The activists deny the charges and have told courts that they were tortured while in police custody and coerced to confess to false allegations.
The whereabouts of another 11 people are not known, Chamisa said.
"Efforts by the MDC, relatives and the party's lawyers to locate their whereabouts have been fruitless as the police are claiming that they are not in police custody," he said.
Don't Miss
The government of Zimbabwe has previously denied any wrongdoing in the matter, saying the activists face legitimate charges under Zimbabwean law. Calls to a police spokesman were not answered Sunday.
The MDC has sought the support of the Southern African Development Community, African Union and United Nations, Chamisa said.
The Southern African Development Community, formed in 1980, is a loose alliance of nine majority-ruled states in southern Africa and is primarily aimed at coordinating development projects to reduce poverty.
There has been a spate of kidnappings in Zimbabwe targeting mainly opposition supporters and human rights defenders.
Chamisa said the party fears that the kidnapped activists have experienced "inhumane and degrading conditions during their detention."
"Such behavior by Mugabe confirms that the regime is not sincere in working with us. I think it will only be fair to think of working together when we can account for every one of us," he said.
Mugabe and MDC leader Morgan Tsvangirai signed a power-sharing deal last September that was brokered by the former South African leader Thabo Mbeki on behalf of the SADC.
The deal offered hope that Zimbabwe would not plunge into total economic chaos. But the pact has stalled over the allocation of key cabinet ministries, with Tsvangirai accusing Mugabe of grabbing all the key ministries such as defense, home affairs, local government, foreign affairs and finance.
Meanwhile, Zimbabwe's worst humanitarian and economic crisis since its independence from Great Britain in 1980 rages on, with a cholera epidemic that has claimed nearly 2,000 lives since August. Mugabe's government has declared the cholera epidemic a national emergency and called on international organizations for help.
The U.N. says more than 5 million people are in dire need of food aid in a country that is facing acute shortages of essential items, ranging from fuel and electricity to cash and food. And those acute shortages, say economists, account for Zimbabwe's fast-dropping currency. The country is grappling with the world's highest inflation rate, officially estimated at 231 million percent.
Mugabe's critics blame his economic policies for the crisis, but he accuses western nations of sabotaging the country's economy through sanctions.
E-mail to a friend

All About Zimbabwe • Robert Mugabe • Morgan Tsvangirai