By John Stremlau
Special to CNN





Editor's note: John Stremlau is vice president for Peace Programs at The Carter Center and an election observer in Ghana. A former U.S. State Department official, he was Jan Smuts Professor and director of the Centre for Africa's International Relations at the University of the Witwatersrand, Johannesburg, South Africa.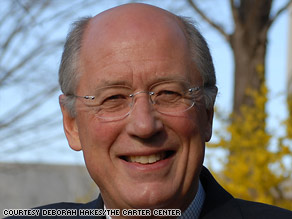 John Stremlau says Ghana has had five successful national elections since 1992.
ATLANTA, Georgia (CNN) -- Supporters of democracy around the world can celebrate the January 7 inauguration of Ghana's new president, professor John Evans Atta Mills, who defeated the leader of the incumbent party in a December 28 runoff election by a mere 41,566 votes out of 9,001,478.
Ghana is not a country that grabs headlines at a time when the big stories out of Africa are crises in Sudan, Somalia, Congo and Zimbabwe. Yet after surviving a post-colonial period of instability and military rule, Ghana has had five successful national democratic elections since 1992.
It is an enviable record that challenges the persistence of misrule in nearby Ivory Coast, Togo and Guinea, and inspires those committed to democratic recovery in nearby Liberia, Sierra Leone and Nigeria.
Political stability in Ghana has helped sustain annual growth in excess of 6 percent, attracting foreign investment that has boosted exports of raw materials and agriculture, light industry and a fledgling service sector, including tourism.
There is the prospect of large off-shore oil revenues from 2010, plus several billion dollars in annual remittances from Ghanaians. Still, most Ghanaians remain poor as the new pockets of prosperity exacerbate inequality and politically ambitious Ghanaians continue to appeal to ethnic loyalties in seeking wealth and power through control of state resources.
The latest election shows, however, that politics in Ghana are changing and becoming more focused on issues of the economy, access to education, health care, economic opportunity, and corruption, all of which were featured in two lengthy televised presidential debates.
Don't Miss
Voter turnout of over 70 percent and the willingness of many tens of thousands of Ghanaian citizens to manage and monitor efficient casting and transparent counting of secret ballots in 22,000 polling stations reflect a deepening national consensus and commitment to defend the country's constitution and the goal of democratic development.
Are there any lessons for other countries in Ghana's democratic progress?
Perhaps the most important is the power of a constitution rooted in a popular rejection of past abuses.
It has entrenched such core provisions as executive term limits, a minimum 50 percent + 1 requirement for electing a president that forces candidates to forge national coalitions, provisions for a strong independent Electoral Commission empowered to determine election results and subject only to judicial review, and a tight timetable of one month between the first round of a presidential election and the winner's inauguration.
Two broad-based political parties have emerged as a result, dividing the country narrowly but not deeply in ways familiar to Americans -- one social-democratic and the other pro-business.
With the race so tight and each side accusing the other of rigging results in their respective strongholds, the Electoral Commission took two critical political steps, inviting both parties to provide evidence to support claims of wrongdoing and holding a special January 2 election in the one district not counted in the initial December 28 runoff vote.
The constitutionally mandated deadline of a January 7 inauguration left the parties with no politically viable options for rejecting the Electoral Commission's January 3 ruling that Atta Mills was the winner.
Helping ensure the integrity of the process, several hundred international election observers, along with 4,000 local observers, deployed throughout the country, operating according to a set of observation principles developed jointly by The Carter Center, the United Nations Electoral Assistance Division and the National Democratic Institute.
The observers were unanimous in concluding the Electoral Commission had conducted the election in a credible manner that was peaceful, transparent, and generally free of intimidation or other threats.
Their work was abetted by Ghana's robust independent media and civil society organizations, such as an interfaith national peace committee, professional associations, and human rights groups that together pressed all parties to adhere to the constitutionally prescribed process and resolve any electoral conflicts by peaceful, lawful means.
No democracy is ever perfect, and Ghana's has many flaws. But it has succeeded in creating conditions where political leaders believe they can win by constitutional means. In past elections, victors have made almost no effort to accommodate the vanquished to rebuild national unity.
It was heartening to an American visitor to hear African electoral observers urging Ghanaian party leaders to emulate the example of Barack Obama in forging a more inclusive new administration. Were this to occur, it would be another reason to look to Ghana for democratic leadership in Africa.
The opinions expressed in this commentary are solely those of John Stremlau.
E-mail to a friend

All About Ghana • Elections and Voting • Carter Center