By Mohamed Amiin Adow





NAIROBI, Kenya (CNN) -- Ethiopian forces propping up Somalia's transitional government have begun their withdrawal from the country, pulling out of two key bases in Mogadishu, eyewitnesses and officials said Tuesday.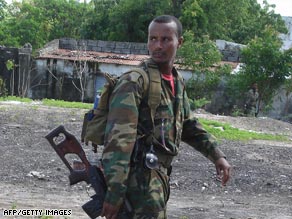 Ethipian troops invaded Somalia in 2006.
The Ethiopians withdrew late Monday from two former factories in the northeast part of the capital, the eyewitnesses and officials said.
Hundreds of jubilant residents poured into the abandoned bases Tuesday.
"We are so glad that they have left after two years of their presence in our neighborhood," cried Asha Omar, a resident of the neighborhood where one of the factories is located.
Forces from the Islamic Courts Union, the largest Islamic group and one of those fighting against the presence of the Ethiopian forces, were immediately seen taking over the two bases vacated by the Ethiopians.
Ethiopia invaded Somalia in December 2006 to depose the Islamic government and install a U.N.-backed transitional government. The Islamists, whom the United States accuses of having ties to the al Qaeda terrorist network, responded with a guerrilla campaign that has crippled efforts to support a U.N.-backed transitional government.
Officials from the Ethiopian military forces, the African Union peacekeepers, and the prime minister of Somalia's transitional government held a farewell ceremony for the Ethiopian troops at Villa Somalia, the presidential palace.
Somalian Premier Nur Hassan Hussein Nur Ade warmly endorsed the beginning of the end of Ethiopian troops in his country.
"I welcome the withdrawal of Ethiopian forces from Somalia, which was part of the Djibouti peace between my government the opposition group," said Nur Ade. He called on the Somalis for unity in the pursue of peace in their nation.
Meanwhile, the commander of Ethiopian forces in Somalia, General Yohanes, confirmed at the farewell ceremony that the withdrawal had officially begun.
E-mail to a friend